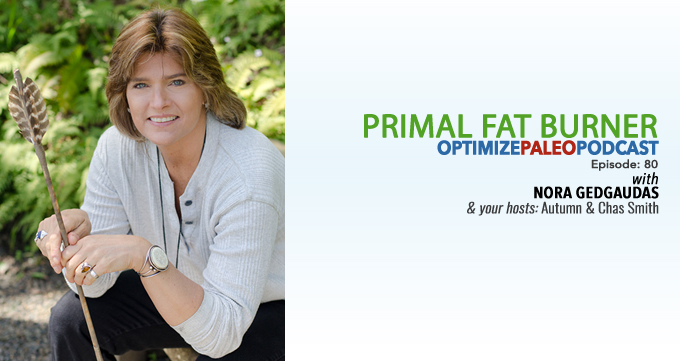 EP80: Primal Fat Burning with Nora Gedgaudus
Is fat really BRAIN food? Tune in to find out more!
IN THIS EPISODE:
Nora Gedgaudas is a widely recognized expert on the "Paleo diet". She is the author of the international best-selling book, Primal Body, Primal Mind: Beyond the Paleo Diet for Total Health and A Longer Life. She is also the author of the best-selling ebook: Rethinking Fatigue: What Your Adrenals Are Really Telling You and What You Can Do About It and has recently written a third awesome book, PRIMAL FAT BURNER: Live Longer, Slow Aging, Super-Power Your Brain and Save Your Life with a High Fat Low Carb Diet, which we'll be talking all about today.
So if you want to hear about the benefits of a low-carb, high-fat lifestyle check it out and why animal products must be a part of it, be sure to check it out!
Here's what you'll learn:
How we know our ancestors consumed a lot of dietary fat
Why our brains REQUIRE dietary animal fats (not just plant-based fats)
Why most people can't get anti-inflammatory omega-3 fatty acids from plants
How we KNOW our ancestors were not eating starches
Why food quality is perhaps more important than anything else
The nutrients you get from animal fats that you can't get anywhere else
Why vegan/vegetarian diets are not the answer (even if you hate CAFOs)
The crazy "foods" that cows are being fed in CAFOs
Why animal agriculture can save the planet
The difference between paleo and keto
Nora's 2 favorite supplements for properly digesting protein
The most common mistakes people make when adopting a high-fat low-carb diet
Why protein needs to be moderated
How much protein you should be eating each day for a long, healthy life
The BEST lab tests for food sensitivities (and the only one she recommends using!)
The difference between a food allergy and a food sensitivity
Why detecting food sensitivities is PARAMOUNT to optimal health
A day in the life of Nora's meals
SHOW NOTES:
Connect With Nora Gedgaudas: www.primalbody-primalmind.com
Expand your Knowledge Here:
Thanks for listening!
Thanks so much for joining us this week. Have some feedback you'd like to share or a question you'd like to ask? Leave a note in the comment section below!
If you enjoyed this episode, please share it using the social media buttons you see in this post.
Also, we'd love it if you would leave an honest review for The Optimize Paleo Podcast on iTunes! Ratings and reviews are super helpful and greatly appreciated as it helps us expose this show to a wider audience and spread this information to more people who need to hear it. We read every review so we look forward to hearing from you!
And finally, don't forget to subscribe to the show on iTunes to get automatic updates…see you next time!
Click the button below to subscribe on iTunes: