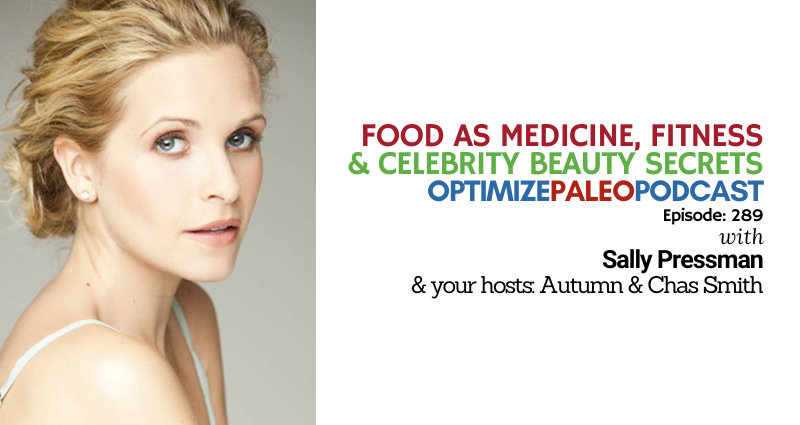 EP289: Food as Medicine, Fitness & Celebrity Beauty Secrets with Sally Pressman
Twenty million Americans today suffer from chronic digestive issues.
Actress Sally Pressman, (you may have seen her as "Roxy" from Army Wives or on Grey's Anatomy, Younger, Good Girls, etc.) became one of them when she was diagnosed with Ulcerative Colitis in 2009.
Her doctor said medications were her only option, but after a few days of self-directed dietary change - her symptoms were gone.
I met Sally when I worked at the Tracy Anderson Method.
Her work ethic, kindness, and bubbly personality quickly made her one of my favorite clients and I am thrilled to share her beautiful soul and remarkable story in this week's podcast.
We talk about all gut healing and the fitness and beauty secrets that made Sally one of Hollywood's elite. Here are some of the highlights…
The exercise method Sally (and I) are obsessed with
The realities of living with an autoimmune illness
Why doctors do not talk about nutrition
The diet that helped manage her autoimmune condition
A day in the life of Sally's diet
The food Sally always avoids
Her favorite natural sweetener
Sally's favorite brand of chocolate and go-to snacks
Sally's favorite paleo bakery and cinnamon rolls (that you can get nationwide!)
Her daughter's favorite protein snack
Sally's skin and supplement secrets
Sally's experience with keto and intermittent fasting
Sally's role model
And so much more!
Please share this podcast with anyone you think it might benefit and thanks for listening!
Valuable Resources:

Paleovalley Chocolate Bone Broth Protein Powder
>>> Enjoy a sweet treat PLUS all the benefits of Collagen-Rich Grass Fed bone broth with our NEW! Chocolate Bone Broth Protein!
Bio:
SALLY PRESSMAN is best known for starring as 'Roxy LeBlanc' for 7 seasons on Lifetime's hit series 'Army Wives'. Recently, she recurred opposite Mae Whitman on the NBC dramedy 'Good Girls.' You can also find Sally on Disney Plus's anthology series 'Just Beyond', AppleTV's series 'Acapulco', TBS's hit comedy 'The Detour,' Netflix's '13 Reasons Why,' and she recurred opposite Debi Mazar as 'Malkie' on the popular comedy 'Younger.' Her additional television credits include recurring roles on Shonda Rhimes' 'The Catch,' 'Grey's Anatomy,' 'Scandal,' and Jason Katim's CBS drama 'Pure Genius.' In addition, Sally appeared in numerous comedies including HBO's 'Girls,' 'Man Up,' 'The New Adventures of Old Christine,' as well as dramas such as 'Once Upon a Time,' and 'Persons of Interest' among others. On the feature side, Sally stared alongside Dane Cook, Jason Biggs, and Kate Hudson in MY BEST FRIEND'S GIRL.
Thanks for Listening!
Thanks so much for joining us this week. Have some feedback you'd like to share or a question you'd like to ask? Email us at [email protected]!
If you enjoyed this episode, please share it using the social media buttons you see in this post.
Also, we'd love it if you would leave an honest review for The Optimize Paleo Podcast on iTunes! Ratings and reviews are super helpful and greatly appreciated as it helps us expose this show to a wider audience and spread this information to more people who need to hear it. We read every review so we look forward to hearing from you!
And finally, don't forget to subscribe to the show on iTunes to get automatic updates…see you next time!
Click the button below to subscribe on iTunes: