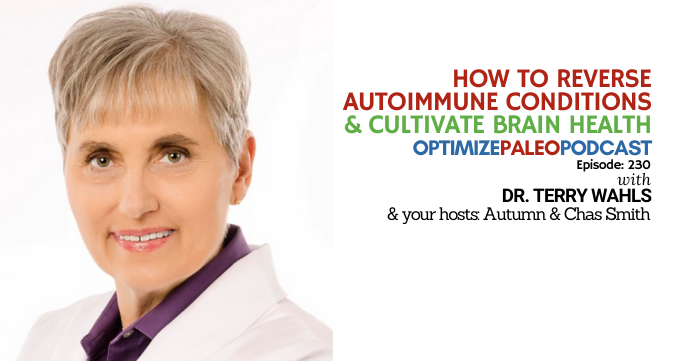 EP230: How to Reverse Autoimmune Conditions & Cultivate Brain Health With Dr. Terry Wahls
IN THIS EPISODE:
Most people today want to optimize brain function and feel calmer (or happier), reduce brain fog, or experience more stable moods.
(Or maybe you're like me and you just never want to forget where your keys are again! 😊
Fortunately, there is a healthy body of research demonstrating that what we eat - directly impacts the way our brain functions, develops and recovers.
In fact, today's podcast guest, best-selling author, clinical professor and functional medicine superstar, Dr. Terry Wahls, used food (and strategic supplements) to heal her brain and reverse the Multiple Sclerosis that once confined her to a tile-recline wheelchair chair.
Talk about incredible.
She is also conducting clinical trials demonstrating that her Wahls Protocol IS just as powerful and life changing as we want to believe it is. And that it's not just for people with M.S. but for people who want to reverse other autoimmune conditions or simply improve the way their brain functions.
So if you want to build a better brain (and who doesn't, right?) - drop what you're doing and tune in NOW!
Dr. Wahls is one of the most impressive people I've ever had the pleasure of interviewing and I know you'll be blown away by what she has to say. Here's what you'll learn...
Why she only eats one meal a day
What she believes caused her autoimmune issues
Her thoughts on the carnivore diet
The food that causes incapacitating face pain for her within 6 hours
The best foods for a health brain
The 3 most problematic foods for people with autoimmune conditions
The surprising tweak she makes for paleo dieters
Why organ meats are integral to her protocol
Why greens are powerful medicine for the brain
The best veggies for keeping your brain young
The little known vitamin that your brain needs more of
The food she eats whenever she travels
Why bone broth is helpful for the Mtor pathway
The food colors that build brain health
What people with both genes for Alzhiemer's (like me) think of her protocol
Why long term ketosis can negatively impact health
What her research is demonstrating (this is AMAZING!)
Don't forget to share this life-changing information with anyone you know could benefit. <3
Stay healthy, friends!
Resources We Mention:
The Wahls Protocol Book: How I Beat Progressive MS Using Paleo Principles and Functional Medicine
The Wahls Protocol Cooking for Life Book: The Revolutionary Modern Paleo Plan to Treat All Chronic Autoimmune Conditions
The Wahls Protocol Seminar & Retreat
Get Paleovalley Grass Fed Organ Complex for Up To 20% Off HERE!
Bio:
Dr. Terry Wahls is an Institute for Functional Medicine Certified Practitioner. In 2018 she was awarded the Institute for Functional Medicine's Linus Pauling Award for her contributions in research, clinical care and patient advocacy. She is also a patient with secondary progressive multiple sclerosis, which confined her to a tilt-recline wheelchair for four years. Dr. Wahls restored her health using a diet and lifestyle program she designed specifically for her brain and now pedals her bike to work each day. She is the author of The Wahls Protocol: How I Beat Progressive MS Using Paleo Principles and Functional Medicine, and the cookbook The Wahls Protocol Cooking for Life: The Revolutionary Modern Paleo Plan to Treat All Chronic Autoimmune Conditions.
She conducts clinical trials that test the effect of nutrition and lifestyle interventions to treat MS and other progressive health problems. She also teaches the public and medical community about the healing power of the Paleo diet and therapeutic lifestyle changes that restore health and vitality to our citizens. She hosts a Wahls Protocol Seminar every summer where anyone can learn how to implement the Protocol with ease and success. Follow her on Instagram @drterrywahls, and on Facebook/Twitter at @TerryWahls.
Thanks for listening!
Thanks so much for joining us this week. Have some feedback you'd like to share or a question you'd like to ask? Email us at [email protected]!
If you enjoyed this episode, please share it using the social media buttons you see in this post.
Also, we'd love it if you would leave an honest review for The Optimize Paleo Podcast on iTunes! Ratings and reviews are super helpful and greatly appreciated as it helps us expose this show to a wider audience and spread this information to more people who need to hear it. We read every review so we look forward to hearing from you!
And finally, don't forget to subscribe to the show on iTunes to get automatic updates…see you next time!
Click the button below to subscribe on iTunes: