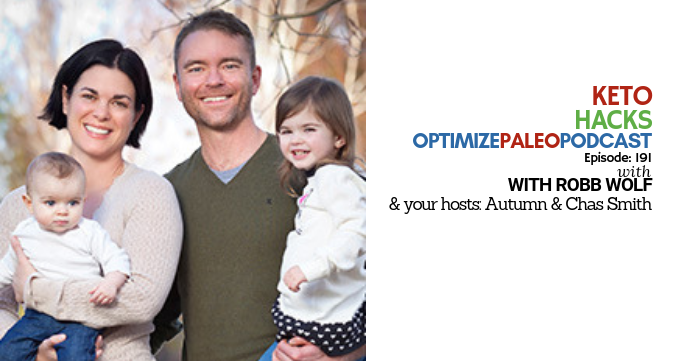 EP191: Keto Hacks with Robb Wolf
IN THIS EPISODE:
By now you've likely heard about the keto diet and its ability to improve fat loss, curb cravings and banish brain fog.
You've also likely heard about the dreaded "keto flu" or the annoying carb withdrawal symptoms that can include irritability, dizziness, nausea and brain fog.
Fortunately, in today's fantastic podcast with 2 time best selling author, Robb Wolf, you can learn all about a science-backed way to mitigate the carb flu AND get the most bang for your buck when it comes to keto. We talk about...
Why you may want to stop skipping breakfast
What the research says is the best meal to skip (you'll be surprised by this!)
Why he decided not to go to medical school
The mistake most keto dieters make (and why it prevents weight loss!)
The type of food that prevents overeating
Why protein shakes are not always equivalent to whole food
Two ways to eat carbs for best results in ketosis
His #1 hack for preventing the keto flu
And much more!
In the world of paleo experts, it doesn't get better than Robb Wolf so tune in ASAP and share this important information with anyone and everyone you love. <3
Links:
Learn more about Robb Wolf's Keto Masterclass - Everything you need to succeed on Keto!
Learn more about LMNT - The #1 sugar-free, gluten-free, paleo & keto friendly electrolyte powder that supercharges hydration.
Thanks for listening!
Thanks so much for joining us this week. Have some feedback you'd like to share or a question you'd like to ask? Email us at [email protected]!
If you enjoyed this episode, please share it using the social media buttons you see in this post.
Also, we'd love it if you would leave an honest review for The Optimize Paleo Podcast on iTunes! Ratings and reviews are super helpful and greatly appreciated as it helps us expose this show to a wider audience and spread this information to more people who need to hear it. We read every review so we look forward to hearing from you!
And finally, don't forget to subscribe to the show on iTunes to get automatic updates…see you next time!
Click the button below to subscribe on iTunes: