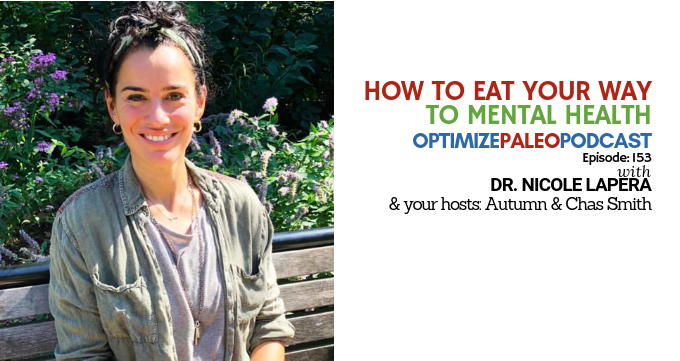 EP153: How To Eat Your Way To Mental Health with Dr. Nicole LaPera
IN THIS EPISODE:
Did you know that bipolar disorder can sometimes be improved by stabilizing blood sugar?
Or that eliminating gluten has been shown to improve schizophrenia?
Or that anxiety and depression can be effectively managed via dietary intervention?
YES.
It's actually possible to eat your way to mental health.
In fact, it's how I was finally able to free myself from the anxiety I suffered from for over 15 years, despite conventional interventions like talk therapy and antidepressants.
The link between food and mood is truly one of my favorite topics in the whole wide world, which is why I had to share one of my favorite experts on the topic, Dr. Nicole LaPera, in this week's podcast!
Dr. Nicole LePera trained in Psychology at Cornell University and The New School for Social Research in New York City. She practices as a holistic psychologist and is founder of the Mindful Healing Center in Philadelphia.
Her work addresses the connection between the mind and body and incorporates nutrition, lifestyle, and psychological wellness practices.
Dr. LaPera is INCREDIBLE.
A true pioneer bridging the gap between psychology and nutrition with incredible results!
After following her on Instagram for just 7 days, I felt educated, empowered, inspired, and more emotionally intelligent. And after you listen to this podcast I know you'll feel the same!
Tune in now and don't forget to share this important message and EMPOWER everyone you know and love!
<3
Thanks for listening!
Thanks so much for joining us this week. Have some feedback you'd like to share or a question you'd like to ask? Email us at [email protected]!
If you enjoyed this episode, please share it using the social media buttons you see in this post.
Also, we'd love it if you would leave an honest review for The Optimize Paleo Podcast on iTunes! Ratings and reviews are super helpful and greatly appreciated as it helps us expose this show to a wider audience and spread this information to more people who need to hear it. We read every review so we look forward to hearing from you!
And finally, don't forget to subscribe to the show on iTunes to get automatic updates…see you next time!
Click the button below to subscribe on iTunes: