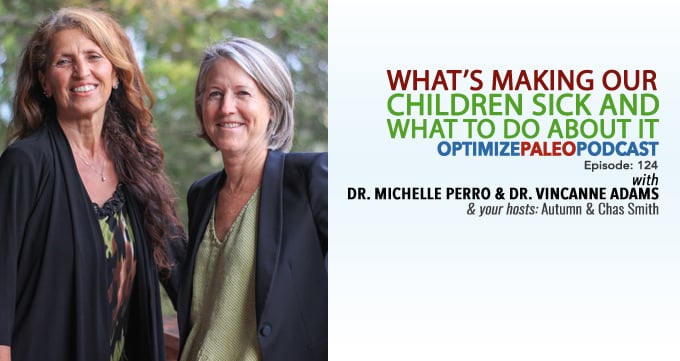 EP124: What's Making Our Children Sick and What We Can Do About It With Dr. Michelle Perro and Dr. Vincanne Adams
Help your kids to have the best chance possible!
IN THIS EPISODE:
According to Dr. Michelle Perro….
"Eating processed foods that are high in carbs, sugar and hollow calories is the first problem but not the main problem. The more insidious danger is foods that are full of pesticides hormones and antibiotics."
Now Dr. Perro is not someone who has always thought this way. Though she's been a pediatrician for over 35 years, it took her own son's illness for her to understand the incredible importance of organic foods. Since she's incorporated organic foods into her recommendations (and other strategies) for kids suffering from autism and other cognitive disorders, mental health issues and illnesses like eczema, the transformations have been ASTOUNDING!
So astounding that she felt compelled to team up with vice-chair of Medical Anthropology at the University of California, San Francisco, Dr. Vincanne Adams to write a book all about the dangers of our industrial food system called What's Making Our Children Sick? How Industrial Food Is Causing an Epidemic of Chronic Illnesses and What Parents (and Doctors) Can Do About It.
Here's what your lucky ears are in for
Dr. Michelle Perro and Dr. Vincanne Adams Story: 3:43
Why our kids are sicker now than ever: 13:07
What eco-medicine is, and why it matters: 18:58
Why GMO's are not the same as other foods: 21:29
Why GMO's are not feeding the world: 27:44
What Glyphosate is doing to your microbiome? (even in small amounts): 35:06
Which foods we can add to our diet to help detoxify: 40:31
2 lifestyle strategies for reducing exposure: 42:21???
A remedy you'll want to have on hand to help you detoxify glyphosate: 45:04
What we need to do to transform the system: 47:07
What warrior moms are and why you want to be one: 49:29
Connect with Dr. Michelle Perro and Dr. Vincanne Adams: 52:45
And so much more!
SHOW NOTES:
Thanks for listening!
Thanks so much for joining us this week. Have some feedback you'd like to share or a question you'd like to ask? Leave a note in the comment section below!
If you enjoyed this episode, please share it using the social media buttons you see in this post.
Also, we'd love it if you would leave an honest review for The Optimize Paleo Podcast on iTunes! Ratings and reviews are super helpful and greatly appreciated as it helps us expose this show to a wider audience and spread this information to more people who need to hear it. We read every review so we look forward to hearing from you!
And finally, don't forget to subscribe to the show on iTunes to get automatic updates…see you next time!
Click the button below to subscribe on iTunes: