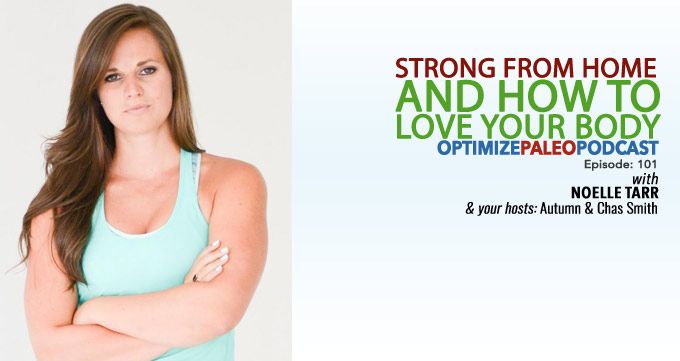 EP101: STRONG From HOME (And how to LOVE your body!) with Noelle Tarr
Are you OVERDOING it?
IN THIS EPISODE:
Noelle is a Nutritional Therapy Practitioner (NTP™), certified by the Nutritional Therapy Association®, and a National Strength and Conditioning Association (NSCA®) Certified Personal Trainer. She is the writer behind the award-winning and popular website Coconuts & Kettlebells, and the health and fitness podcast, Well-Fed Women Podcast. This was a truly enlightening conversation with a lot of gems, so don't miss out!
Here's what you'll learn:
Why Noelle is passionate about changing the way women feel about their bodies
How to love your body just a little bit more
Why happiness is NOT a destination
A simple strategy to help you stop holding your happiness hostage
How to know how much exercise your body needs
How many workouts each week she recommends
How to sync your workouts with your menstrual cycle for maximal muscle gains
Why she doesn't want 6 pack abs
Why it's important to keep things changing
Sings you're overtraining
The kind of food she recommends people add more of when they've hit a plateau
The one strategy that everyone needs to employ for sustainable health
Whether she thinks diet or exercise is more important for quick results
What she eats in a given day
And much more!
SHOW NOTES:
Thanks for listening!
Thanks so much for joining us this week. Have some feedback you'd like to share or a question you'd like to ask? Leave a note in the comment section below!
If you enjoyed this episode, please share it using the social media buttons you see in this post.
Also, we'd love it if you would leave an honest review for The Optimize Paleo Podcast on iTunes! Ratings and reviews are super helpful and greatly appreciated as it helps us expose this show to a wider audience and spread this information to more people who need to hear it. We read every review so we look forward to hearing from you!
And finally, don't forget to subscribe to the show on iTunes to get automatic updates…see you next time!
Click the button below to subscribe on iTunes: