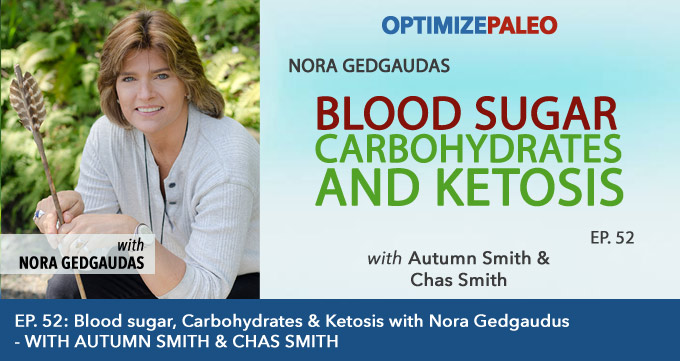 EP. 52: Blood Sugar, Carbohydrates & Ketosis with Nora Gedgaudus
How To Finally Find Your Optimal Health
IN THIS EPISODE:
Nora Gedgaudas is a widely recognized expert on what is popularly referred to as the "Paleo diet". She is the author of the international best-selling book, Primal Body, Primal Mind: Beyond the Paleo Diet for Total Health and A Longer Life. She is also the author of the best selling ebook: Rethinking Fatigue: What Your Adrenals Are Really Telling You and What You Can Do About It.
Nora is one smart cookie.
Her knowledge base was actually even wider than I had anticipated (which is pretty impressive because she's one of my heroes!) and it made for an incredibly FASCINATING and enlightening conversation.
Soooooo many "aha" moments!
Here are some of the fascinating tidbits you won't want to miss:

The dangers of chronically elevated blood sugar

A little known therapy that can heal your brain and mental health issues

How accurate is blood sugar as a measure of health?

How to identify blood sugar issues

How to keep your blood sugar steady

What ideal blood sugar readings look like

The importance and limitations of glucometers

Why certain foods trigger insulin but not blood sugar and why it matters

The sweetener that DOESN'T trigger insulin

Why certain people tolerate carbohydrates better than others

How to get your body to stop burning carbs so it can start burning FAT

What carb cravings say about our health

Supplements that help fight carb cravings

Health issues that could be at the root of your carb cravings

Why NO ONE has ever had a carb deficiency

The supplement company that puts GLUTEN in all their supplements

Why making your own ketones is always better than supplementing

The dangers of synthetic ketones

The ultimate goal of ketosis

And much more!
SHOW NOTES:
Check out Summer's website here:
www.primalbody-primalbody.com
Find a Neurofeedback provider in your area:
http://eeginfo.com/member/directory.do
Grab Nora's book, Rethinking Fatigue on Amazon here:
http://amzn.to/2h3FajU
Thanks for listening!
Thanks so much for joining us this week. Have some feedback you'd like to share or a question you'd like to ask? Leave a note in the comment section below!
If you enjoyed this episode, please share it using the social media buttons you see in this post.
Also, we'd love it if you would leave an honest review for The Optimize Paleo Podcast on iTunes! Ratings and reviews are super helpful and greatly appreciated as it helps us expose this show to a wider audience and spread this information to more people who need to hear it. We read every review so we look forward to hearing from you!
And finally, don't forget to subscribe to the show on iTunes to get automatic updates…see you next time!
Click the button below to subscribe on iTunes: