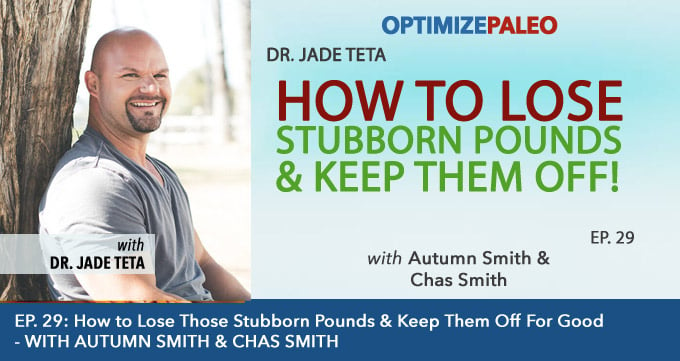 EP. 29: How to Lose Those Stubborn Pounds & Keep Them Off For Good
Say goodbye to those last few stubborn pounds!
IN THIS EPISODE:


Dr. Teta has a Bachelor's degree in biochemistry and a Doctorate in naturopathic medicine. He is the author of several books including the best-selling Metabolic Effect Diet, and Metabolic Aftershock. He is also a contributor to The TextBook Of Natural Medicine, the number one natural medicine textbook used in medical schools across the country.
Here's what you'll learn:
Why calories do matter but aren't the whole story
What other factors you MUST take into account when losing weight
The first critical step to losing weight and keeping it off
An simple way to tell if your metabolism is balanced
A comprehensive and practical way to lose weight and keep it off for good.
SHOW NOTES:
Check out Dr. Jade Teta's website here:
http://jadeteta.com/
Thanks for listening!
Thanks so much for joining us this week. Have some feedback you'd like to share or a question you'd like to ask? Leave a note in the comment section below!
If you enjoyed this episode, please share it using the social media buttons you see in this post.
Also, we'd love it if you would leave an honest review for The Optimize Paleo Podcast on iTunes! Ratings and reviews are super helpful and greatly appreciated as it helps us expose this show to a wider audience and spread this information to more people who need to hear it. We read every review so we look forward to hearing from you!
And finally, don't forget to subscribe to the show on iTunes to get automatic updates…see you next time!
Click the button below to subscribe on iTunes: