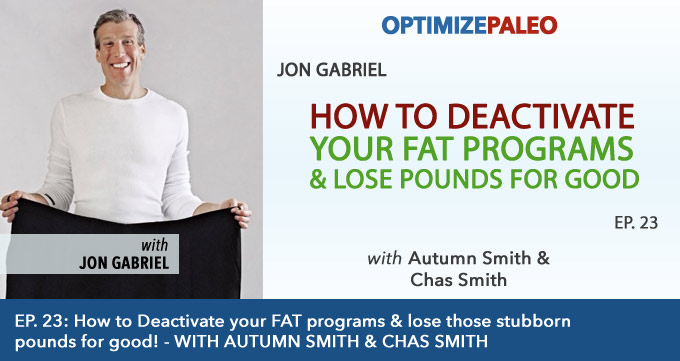 EP. 23: How To Deactivate Your FAT Programs & Lose Those Stubborn Pounds For Good!
Finally lose those last stubborn pounds
IN THIS EPISODE:
In 2001 Jon Gabriel weighed 409 pounds. Even though he was almost ready to give up, Jon developed his own approach and lost more than 200 pounds without dieting, pills, or surgery. He also stopped feeling stressed and overworked and started living the life of his dreams. His book The Gabriel Method is an international bestseller with over 350,000 readers worldwide.
Here's what you'll learn:
How he lost 220 pounds and has kept if off for 11 years
Why he thinks calories in, calories out is "kindergarten medicine"
Why being overweight is not your fault
Why diet and exercise does always help everyone lose weight
Why excess weight is NOT your enemy
What FAT programs are and how they inhibit weight loss
How to deactivate FAT programs so you can stop chronic weight gain
SHOW NOTES:
Check out Jon Gabriel's website here:
http://www.thegabrielmethod.com/
Thanks for listening!
Thanks so much for joining us this week. Have some feedback you'd like to share or a question you'd like to ask? Leave a note in the comment section below!
If you enjoyed this episode, please share it using the social media buttons you see in this post.
Also, we'd love it if you would leave an honest review for The Optimize Paleo Podcast on iTunes! Ratings and reviews are super helpful and greatly appreciated as it helps us expose this show to a wider audience and spread this information to more people who need to hear it. We read every review so we look forward to hearing from you!
And finally, don't forget to subscribe to the show on iTunes to get automatic updates…see you next time!
Click the button below to subscribe on iTunes: