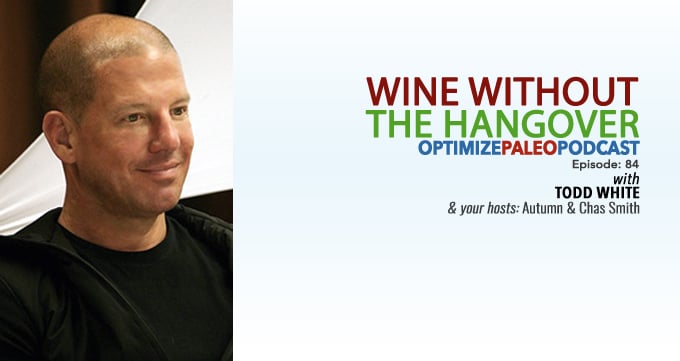 EP84: Wine without the HANGOVER with Todd White
Do you KNOW what's in your wine?
IN THIS EPISODE:
My husband and I have run into Todd several times selling his sugar-free wine at health conferences. I was initially VERY skeptical of his "too-good-to-be-true," claims especially because I believe excess sugar consumption is public health enemy #1.
Is SUGAR-FREE wine even possible?
Was he actually testing EACH bottle of wine?
What about his blood sugar response?
Was he testing that, too?
Turns out he was.Todd is fanatical about high-quality wine AND health. In fact, his desire to drink wine often and have life-long health is why he founded his company. He literally tests every wine to ensure it is truly SUGAR-free! He's also been in ketosis for over 3 years while drinking a bottle of wine each day.
Here's what you'll learn:
Why Todd is to bring high-quality wine back to the market
The many issues with conventional wines
What percentage of American wines are made by the top 3 companies (this will SHOCK you!)
How to drink wine without a hangover
Why wines don't have a nutritional label
Problematic additives found in most wines
The problem with ORGANIC wines
The dangerous mycotoxin that our government doesn't test for (but Todd does)
Why your teeth get purple when you drink wine (and why it's bad!)
The REAL benefit of wine drinking (spoiler alert: it's not about resveratrol!)
How irrigation changes the health properties of wine
Why conventional wines are harming the environment
How his wines are SUGAR and carb free! (yes, your dream just came true)
Why the wine industry is a lot like the beef industry
The problem with most of the yeast used to make wine
Where he sources his wine
Why it's important to drink low alcohol wine
Why the amount of alcohol listed on your wine label may be inaccurate
How to choose healthy wines at a restaurant
How to have truly healthy wine delivered to your doorstep
How to keep burning fat even when you still drink wine
How to get a bottle of high-quality wine for 1 cent!
And much more!
SHOW NOTES:
Thanks for listening!
Thanks so much for joining us this week. Have some feedback you'd like to share or a question you'd like to ask? Leave a note in the comment section below!
If you enjoyed this episode, please share it using the social media buttons you see in this post.
Also, we'd love it if you would leave an honest review for The Optimize Paleo Podcast on iTunes! Ratings and reviews are super helpful and greatly appreciated as it helps us expose this show to a wider audience and spread this information to more people who need to hear it. We read every review so we look forward to hearing from you!
And finally, don't forget to subscribe to the show on iTunes to get automatic updates…see you next time!
Click the button below to subscribe on iTunes: