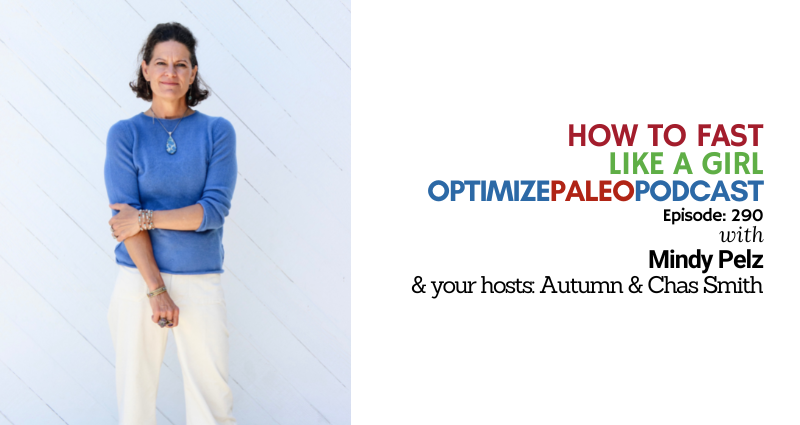 EP290: How to Fast Like A Girl with Mindy Pelz
Did you know that, as a woman, your cholesterol and blood sugar levels will be higher at certain times of your menstrual cycle?
Which can not only affect how you feel and what you should eat, but may also affect whether or not you're prescribed medication.
Women are also stronger, smarter and calmer during certain periods of the cycle, and should eat more carbs and avoid fasting at other times.
Sadly, because most health-based research has been based on men, most women never understand these important nuances.
Which is why in today's podcast with bestselling author, keynote speaker, nutrition and functional health and fasting expert, Dr. Mindy Pelz, we talk all about why women MUST approach their health differently and how to customize your diet and lifestyle to leverage your hormone-centric advantages. Here are some of the fascinating takeaways:
How cholesterol levels change during your cycle
Why glucose levels are higher at certain times in your cycle
Is higher cholesterol dangerous for women?
A little-known underlying cause of high cholesterol in women
The negative impact of statins on the brain
What women MUST know to fully understand their health
When you are the strongest and most capable during your cycle
When to eat more carbs during your cycle
The hormone that protects your brain
What to eat at different parts of your cycle
What a hormone feast is and how to do it
When you should always avoid alcohol
The 4 components of a fasting lifestyle
When to do a carnivore diet and when to eat more veggies
When to use the sauna, red light and cold therapy during your cycle
Hyperbaric oxygen and its utility for healing hormones
And so much more!
Do not miss this conversation if you are (or love) a woman or are the parent of a young woman. It is a truly POWERFUL conversation that will forever change your approach to women's health.
Valuable Resources:


Paleovalley Organic Supergreens
>>> Click HERE to boost your leafy green intake with Paleovalley's Supergreens — NOW in 3 Flavors!

Fast Like a Girl by Mindy Pelz
>>> Learn more about the book + Receive a FREE bonus course when you order HERE!

Bio:
Dr. Mindy Pelz, D.C is a bestselling author, keynote speaker, nutrition and functional health expert who has spent over two decades helping thousands of people successfully reclaim their health. She is a recognized leader in the alternative health field and a pioneer in the fasting movement, teaching the principles of a fasting lifestyle, diet variation, detox, hormones, and more. Her popular YouTube channel (which just celebrated 18 million lifetime views) regularly updates followers on the latest science-backed tools and techniques to help them reset their health. She is the host of one of the leading science podcasts, The Resetter Podcast, and the author of three best-selling books; The Menopause Reset, The Reset Factor, and The Reset Kitchen. Dr. Mindy has appeared on national shows like Extra TV and The Doctors, and has been featured in Muscle & Fitness, Well + Good, SHEknows, Healthline, and more.
Thanks for Listening!
Thanks so much for joining us this week. Have some feedback you'd like to share or a question you'd like to ask? Email us at [email protected]!
If you enjoyed this episode, please share it using the social media buttons you see in this post.
Also, we'd love it if you would leave an honest review for The Optimize Paleo Podcast on iTunes! Ratings and reviews are super helpful and greatly appreciated as it helps us expose this show to a wider audience and spread this information to more people who need to hear it. We read every review so we look forward to hearing from you!
And finally, don't forget to subscribe to the show on iTunes to get automatic updates…see you next time!
Click the button below to subscribe on iTunes: