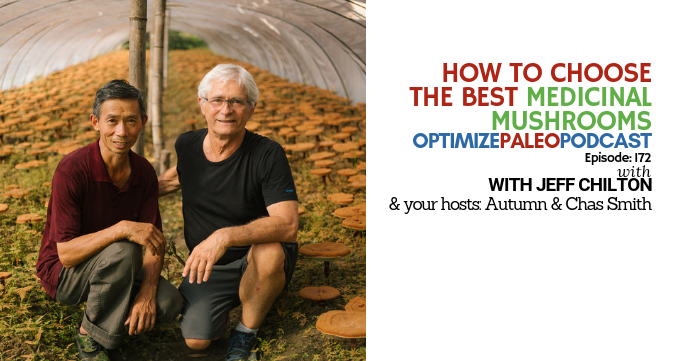 EP172: How to Choose the Best Medicinal Mushrooms with Jeff Chilton
IN THIS EPISODE:
By now you've probably heard that medicinal mushrooms (think reishi, chaga, cordyceps, shiitake) have a WEALTH of health benefits (increased energy, improved immunity, anti-aging, etc.) but you probably didn't know that most mushroom supplements aren't actually mushrooms. Often times half of the supplement is actually GRAIN. I wish I were joking. So if you're spending your hard-earned dollars on mushroom supplements or just want to know how to choose the highest quality mushrooms then listen to this week's podcast with the founder of Nammex, Jeff Chilton! You'll be glad you did. <3
Thanks for listening!
Thanks so much for joining us this week. Have some feedback you'd like to share or a question you'd like to ask? Email us at [email protected]!
If you enjoyed this episode, please share it using the social media buttons you see in this post.
Also, we'd love it if you would leave an honest review for The Optimize Paleo Podcast on iTunes! Ratings and reviews are super helpful and greatly appreciated as it helps us expose this show to a wider audience and spread this information to more people who need to hear it. We read every review so we look forward to hearing from you!
And finally, don't forget to subscribe to the show on iTunes to get automatic updates…see you next time!
Click the button below to subscribe on iTunes: