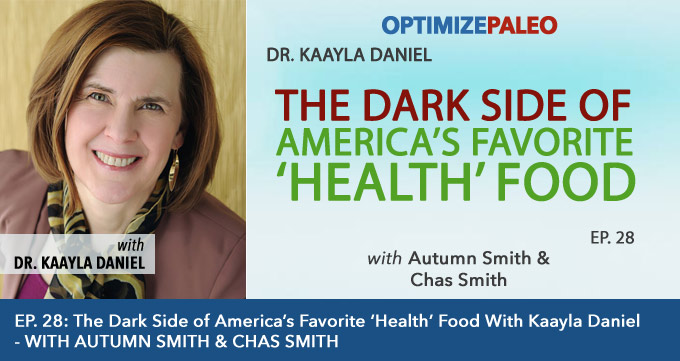 EP 28: The Dark Side of America's Favorite 'Health' Food With Kaayla Daniel
Ditch the soy and here's why...
IN THIS EPISODE:
Just listen to our 28th podcast with Dr. Kaayla Daniel author of The Whole Soy Story: The Dark Side of America's Favorite Health Food to find out all about it!
Listen in and understand exactly why you should retire your soy habit for good. Then pass it along so that we can spread the good word about the dark side of soy.
Here are some of the compelling topics we'll discuss:
How & why soy became a staple of the American diet (and it is not due to its health benefits)
How soy was able to achieve a heart healthy claim despite its negative effects on health
Why people THINK soy makes them feel good
How & why Dr. Daniel prevented a cancer-prevention claim for soy
The specific & numerous reasons soy harms your health
Why Asian cultures aren't necessarily healthier than Americans
Why Paleo adherents need to worry about soy sauce
What you MUST know if your child suffers from a peanut allergy
And much more!
SHOW NOTES:
Check out the Weston A. Price certified homemade baby formula below:
http://www.westonaprice.org/childrens-health/formula-homemade-baby-formula/
Check our Dr. Kaayla Daniel's website here:
drkaayladaniel.com
Want to get a copy of Dr. Kaayla Daniels incredible book on everything soy?
Click here to get your copy of Dr. Kaayla Daniel's book, 'The Whole Soy Story'

Thanks for listening!
Thanks so much for joining us this week. Have some feedback you'd like to share or a question you'd like to ask? Leave a note in the comment section below!
If you enjoyed this episode, please share it using the social media buttons you see in this post.
Also, we'd love it if you would leave an honest review for The Optimize Paleo Podcast on iTunes! Ratings and reviews are super helpful and greatly appreciated as it helps us expose this show to a wider audience and spread this information to more people who need to hear it. We read every review so we look forward to hearing from you!
And finally, don't forget to subscribe to the show on iTunes to get automatic updates…see you next time!
Click the button below to subscribe on iTunes: