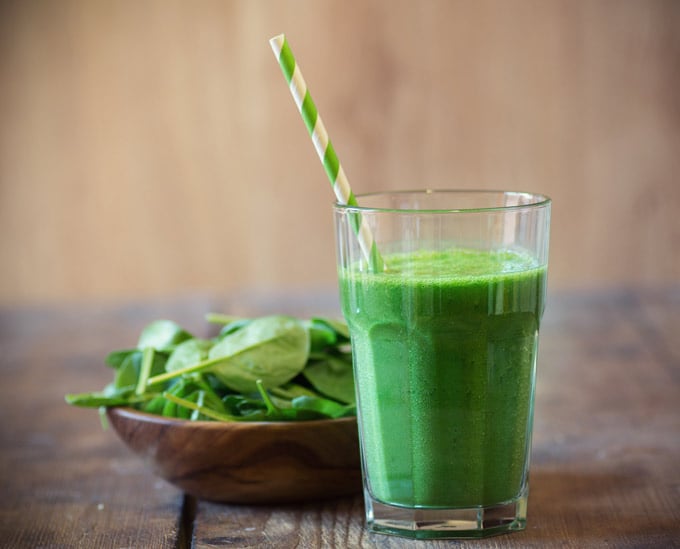 My Life-Saver Green Drink Recipe
NOT ALL GREEN DRINKS ARE CREATED EQUAL!
I'm just dropping by to remind you of a delicious way to propel your nutrient needle forward everyday so you can reach your health goals AND feel your best in a jiffy.
And it's a recipe is for my daily green drink!
Seriously.
It's like a secret weapon.
No matter how I feel before I drink it, afterwards my body is buzzing from all the organic green goodness. I'm more upbeat, energetic, AND committed to nourishing my body with healthy food so that I'm ready to tackle whatever life throws my way.
Best of all, it keeps me full and satisfied for several hours afterward especially when I add a high quality protein powder.
It's true.
My daily green juice LITERALLY creates a momentum that propels me towards healthful dietary decisions for the rest of the day. And on those days when cravings rear their ugly heads (I know you know what I'm talking about), I always drink a green juice before I eat anything else. More often than not the vitamins, minerals and antioxidants satisfy me in a way the food I was craving couldn't.
Dietary disaster averted.
So make the time to whip one up every morning and it's likely that you'll keep your cravings under control!
Not to mention feel AWESOME.
Trust me, it just makes everything easier.
Here's the one I drink almost every day:
1/2 cup organic coconut or almond milk (unsweetened!)
Handful of organic kale
Handful of organic swiss chard
Handful of organic romaine
1 organic carrot
2 organic strawberries
Pinch of organic cinnamon, nutmeg and sea salt
Blend and enjoy!
Please remember that NOT ALL GREEN DRINKS ARE CREATED EQUAL!
In fact, always make your own for best results and never add more than 1/2 piece of fruit or a few organic berries. I'm all for creativity, but too much fruit can send your blood sugar on a roller coaster which will inhibit fat loss and CAUSE CRAVINGS. It can also lead to an energy and mood crash several hours afterward.
Which is the exact OPPOSITE of what we want!
So, drink your green drink already and get on with your delightful day.