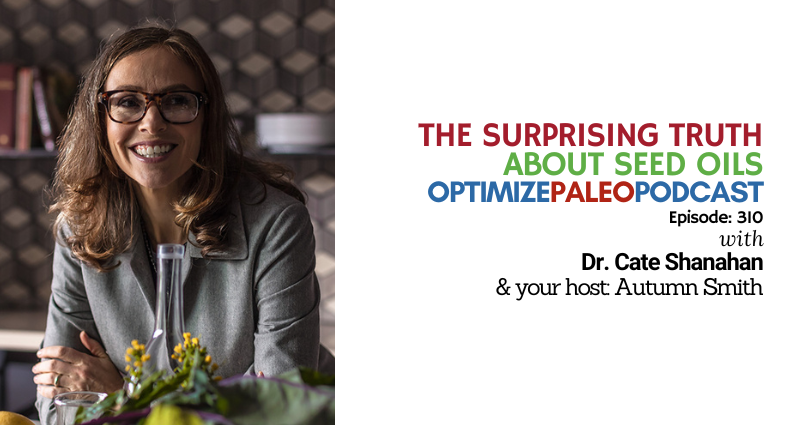 EP310: The Surprising Truth About Seed Oils with Dr. Cate Shanahan
Did you know that the widespread use of certain cooking oils in our modern diets may be a silent contributor to the epidemic of chronic diseases?

Dr. Cate Shanahan, a renowned board-certified Family Physician and seed oil expert, has uncovered startling connections between seed oils (think corn, cottonseed, canola, soy, safflower and sunflower) and the rising rates of obesity, heart disease, and other modern health woes.

Which is why in this week's podcast you're in for a deep dive into her groundbreaking research that challenges everything you thought you knew about the oils in your kitchen. Here are some of the fascinating facts you'll learn….
What seeds oils are and how they're made
A simple shopping strategy that can save your life
How seeds oils can damage your health
Signs you may be overconsuming seeds oils
Why epidemiological research suggests seeds oils are healthy
The type of food Dr. Shahanan sees her patients consume before heart attacks
The fascinating historical origins of seed oils
What percentage of our diet comes from seed oils?
What is more dangerous: Sugar, trans fat or seed oils?
The safest dietary fats!
If you're confused about the healthiest types of fat to eat, please give this podcast a listen and share it with anyone you think it might benefit.
Valuable Resources:
Paleovalley Beef Tallow
>>> Try cooking with the most Nutrient-dense cooking Fat on the Market with Paleovalley's NEW Grass Fed Beef Tallow HERE!
Dr. Cate Shanahan
>>> Lose weight + feel great with Dr. Cate's FREE resources HERE!
Deep Nutrition
>>> Get the book + discover the 4 pillars of the human diet to optimize your health HERE!
Bio:
Cate Shanahan, MD is the author of several bestselling books including Deep Nutrition: Why Your Genes Need Traditional Food, which has taught a generation of ancestral health influencers about the benefits of bone broth, organ meats, fermented foods and the harms of seed oils. Besides regularly appearing in and writing for national media, she has also worked as director for the Los Angeles Lakers PRO Nutrition program.
Thanks for Listening!
Thanks so much for joining us this week. Have some feedback you'd like to share or a question you'd like to ask? Email us at [email protected]!
If you enjoyed this episode, please share it using the social media buttons you see in this post.
Also, we'd love it if you would leave an honest review for The Optimize Paleo Podcast on iTunes! Ratings and reviews are super helpful and greatly appreciated as it helps us expose this show to a wider audience and spread this information to more people who need to hear it. We read every review so we look forward to hearing from you!
And finally, don't forget to subscribe to the show on iTunes to get automatic updates…see you next time!
Click the button below to subscribe on iTunes: