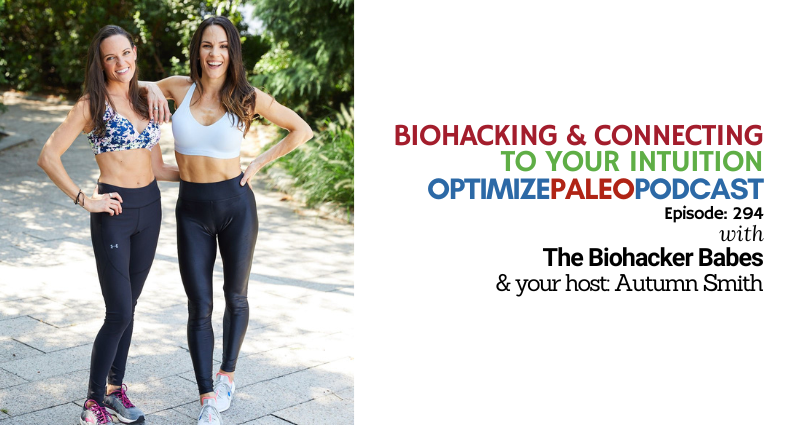 EP294: Biohacking & Connecting to Your Intuition with The Biohacker Babes
Have you tried all the popular diets and weight loss strategies, but still don't feel your best?
Many times it's because what works for someone else - won't always work for you.
In fact, we are all unique biochemically and our needs change from season to season, so the only way to find your perfect diet and lifestyle is to tune into your body's feedback.
Which is why today's podcast with Renee Belz and Lauren Sombarto (aka The Biohacker Babes) is devoted to beginner biohacking, optimizing the foundations of health (sleep, movement, food) and how to use technology to reconnect to your intuition.
These two ladies are wise, fun, feisty and full of helpful tips and tricks. Here are some of the fascinating things you'll learn:
A common mistake that reduces sleep quality
The benefits of methylene blue (and what you need to know before you buy it)
How to use biohacking to get in touch with your intuition
What is heart rate variability (HRV) and why you should measure it
The simplest way to increase HRV
Tips for better sleep
How alcohol affects (HRV) and how to minimize its negative impacts
Their favorite biohacking-approved wine
Helpful supplements for iron issues
Energizing and calming herbs
The best (and worst) ways to add supplements
The healing power of sound
Their favorite biohacking devices
And so much more!
I hope you love this show as much as I did - don't forget to tag someone in the comments who you think will love the show.
Happy biohacking!
Valuable Resources:

Paleovalley Organ Complex
>>> Experience the Benefits of Adding Organ Meats to Your diet + SAVE up to 20% HERE!

The Biohacker Babes
>>> Learn More + Check Out the Podcast HERE!

NutriSense - Continuous Glucose Monitoring
>>> Learn More About NutriSense + Claim Your Exclusive Discount HERE!
Use Discount Code: OPTIMIZE at Checkout for $30 Off
Bio:
Lauren and Renee grew up in a health-driven family that prioritized the fundamentals of wellness and self-care. Their father, Gene Sambataro, The Original Biohacker and pioneer of Holistic Dentistry, taught them the importance of individualization and experimentation from a very young age.
Coming together as health entrepreneurs, Renee a Certified Nutritional Consultant and Holistic Lifestyle Coach with a Master's degree in Nutrition, and Lauren, a Broadway performer, Corrective Exercise specialist and Functional Health Coach, feel a strong passion and drive to not only share each of their journeys towards wellness, but their strategy and motivation to discover our unique bodies through the world of biohacking.
Their podcast, the Biohacker Babes, aims to create insight into the body's natural healing abilities, strengthen your intuition, and empower you with techniques and modalities to optimize your health and wellness.
Thanks for Listening!
Thanks so much for joining us this week. Have some feedback you'd like to share or a question you'd like to ask? Email us at [email protected]!
If you enjoyed this episode, please share it using the social media buttons you see in this post.
Also, we'd love it if you would leave an honest review for The Optimize Paleo Podcast on iTunes! Ratings and reviews are super helpful and greatly appreciated as it helps us expose this show to a wider audience and spread this information to more people who need to hear it. We read every review so we look forward to hearing from you!
And finally, don't forget to subscribe to the show on iTunes to get automatic updates…see you next time!
Click the button below to subscribe on iTunes: