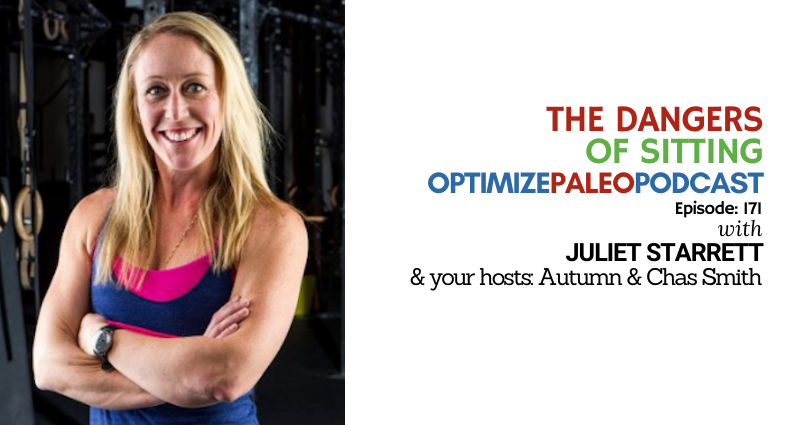 EP171: The Dangers of Sitting with Juliet Starrett
IN THIS EPISODE:
I know by now we've all heard that sitting is bad, but I was shocked to learn that for every hour we sit, we lose two hours of life.
Yes, it's THAT bad. In fact, according to the World Health Organization, sitting too much is the 4th biggest preventable killer - contributing to 3.2 MILLION DEATHS annually.
So if you're still sitting for the majority of your day (like many Americans) drop what you're doing and listen to today's podcast with the amazing founder of MobilityWOD.com (which has revolutionized how athletes think about human movement and athletic performance) and Standup Kids (a NFP that has converted 95,000 kids from sitting to standing), Juliet Starrett.
We talk a little bit about the dangers of sitting and a lot more about what you can do about it (even if you have a desk job) in 3 simple steps.
I promise you, you need to hear this! Sitting IS the new smoking, after all. Don't forget to share this important info with anyone you love!
Show Notes
20% off any MobilityWOD subscription using the code JSTAR
Thanks for listening!
Thanks so much for joining us this week. Have some feedback you'd like to share or a question you'd like to ask? Email us at [email protected]!
If you enjoyed this episode, please share it using the social media buttons you see in this post.
Also, we'd love it if you would leave an honest review for The Optimize Paleo Podcast on iTunes! Ratings and reviews are super helpful and greatly appreciated as it helps us expose this show to a wider audience and spread this information to more people who need to hear it. We read every review so we look forward to hearing from you!
And finally, don't forget to subscribe to the show on iTunes to get automatic updates…see you next time!
Click the button below to subscribe on iTunes: