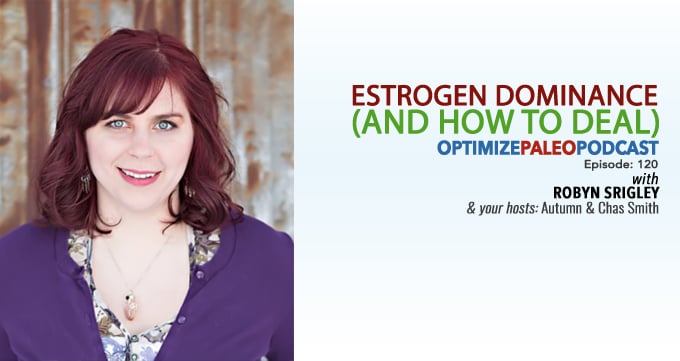 EP120: Estrogen Dominance (And how to deal) with Robyn Srigley
Are you Suffering from Estrogen Dominance and Don't Know it?
IN THIS EPISODE:
Robyn Srigley is The Hormone Diva, Holistic Nutritionist and Women's Health and Nutrition Coach. Robyn's own journey with Polycystic Ovarian Syndrome (PCOS) jumpstarted her passion for helping women replace their anxieties with joy to open possibility in their lives and break free of hormonal imbalance. Robyn runs a successful meal plan and group program practice where she uses diet, movement, botanicals and a self-love lifestyle to transform the lives of women with PCOS, Endometriosis, PMS, Painful Periods and much more.
This show is brimming with awesome insight so don't miss out!
Here are just a few of the topics we covered
Robyn's story: 2:37
What hormones are and why they're important: 6:21
What ED is and how it's diagnosed: 7:51
The major consequences of unaddressed ED: 11:59
The best tests for hormones: 13:11
The 4 major causes of ED: 15:28
3 important tips for eating to balance your hormones: 22:44
One food that can boost and lower estrogen levels: 26:46
A type of food to avoid if you aren't ovulating: 30:22
What insulin resistance is and how to know if you have it: 31:12
4 Supplements she recommends for hormonal harmony: 37:45
A little-known lifestyle tip for balancing hormones: 47:46
The one piece of advice she'd give to our listeners for better health: 51:18
Connect with Robyn: 52:27
And much more!
SHOW NOTES:
Thanks for listening!
Thanks so much for joining us this week. Have some feedback you'd like to share or a question you'd like to ask? Leave a note in the comment section below!
If you enjoyed this episode, please share it using the social media buttons you see in this post.
Also, we'd love it if you would leave an honest review for The Optimize Paleo Podcast on iTunes! Ratings and reviews are super helpful and greatly appreciated as it helps us expose this show to a wider audience and spread this information to more people who need to hear it. We read every review so we look forward to hearing from you!
And finally, don't forget to subscribe to the show on iTunes to get automatic updates…see you next time!
Click the button below to subscribe on iTunes: