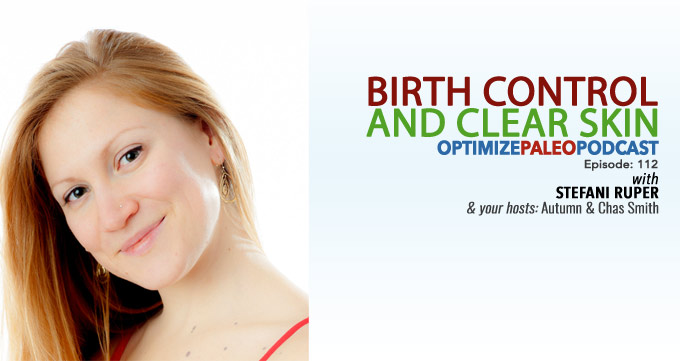 EP112: Birth Control and Clear Skin with Stefani Ruper
Is Your Birth Control Making You Crazy?
IN THIS EPISODE:
Stefan is the author of the best-selling Sexy by Nature: The Whole Foods Solution to Radiant Health, Lifelong Sex Appeal, and Soaring Confidence as well as the managing director of the Paleo for Women community, and the co-host of the top 10 health podcast The Well-Fed Women Podcast.
If you or a loved one are taking birth control (or thinking about it) please don't miss this episode! And please share this information far and wide so that everyone can make informed decisions about this important topic.
Here are some of the gems you're in for:
Stefani's story: 2:25
What our menstrual cycle entails: 6:00
How birth control works: 8:13
The different types of birth control & The risks associated with birth control: 13:31
The nutrients birth control depletes: 18:28
Whether or not skipping your period is healthy: 21:47
Her favorite forms of natural birth control: 25:37
How to know when you're ovulating: 30:18
Tips for getting clear skin: 32:35
The supplements she recommends for clear skin: 36:11
Her thoughts on seed cycling: 38:26
Connect with Stefani: 41:48
SHOW NOTES:
Thanks for listening!
Thanks so much for joining us this week. Have some feedback you'd like to share or a question you'd like to ask? Leave a note in the comment section below!
If you enjoyed this episode, please share it using the social media buttons you see in this post.
Also, we'd love it if you would leave an honest review for The Optimize Paleo Podcast on iTunes! Ratings and reviews are super helpful and greatly appreciated as it helps us expose this show to a wider audience and spread this information to more people who need to hear it. We read every review so we look forward to hearing from you!
And finally, don't forget to subscribe to the show on iTunes to get automatic updates…see you next time!
Click the button below to subscribe on iTunes: