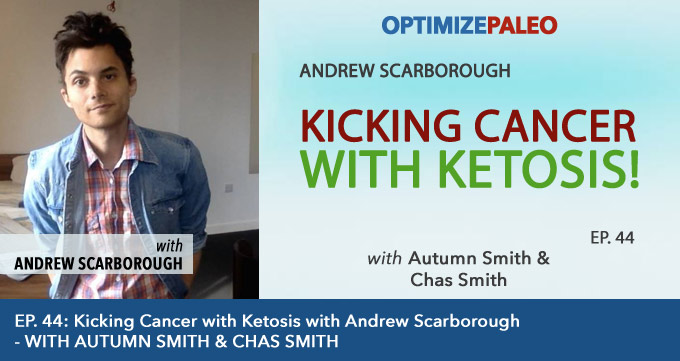 EP. 44: Kicking Cancer with Ketosis with Andrew Scarborough
How 1 Man Cured The Impossible...Brain Cancer!
IN THIS EPISODE:
At the age of 27 Andrew was diagnosed with an Anaplastic Astrocytoma, an incurable form of brain cancer. After following the standard treatment protocol, Andrew was left feeling sick and depressed by his lack of recovery and options. But he knew there had to be another options and was determined to find a better way.
And find another way, he DID.
Today Andrew is in full remission thanks to a ketogenic diet!
He's also dedicated his professional life to spreading the good news about how changing his diet, put his cancer in remission and saved his life.
So do yourself a favor and have a listen! It is truly an inspiring story about the NECESSITY of being your own health advocate. And it's incredibly entertaining too! You won't even believe the lengths Andrew has gone to (and the foods he's eaten)!
Let's just say, even the MOST health savvy of you probably aren't eating them!
SHOW NOTES:
Follow Andrew on Twitter:
https://twitter.com/ascarbs
Grab some Magnesium Chloride Supplement here:
http://amzn.to/2d9ehpW
Thanks for listening!
Thanks so much for joining us this week. Have some feedback you'd like to share or a question you'd like to ask? Leave a note in the comment section below!
If you enjoyed this episode, please share it using the social media buttons you see in this post.
Also, we'd love it if you would leave an honest review for The Optimize Paleo Podcast on iTunes! Ratings and reviews are super helpful and greatly appreciated as it helps us expose this show to a wider audience and spread this information to more people who need to hear it. We read every review so we look forward to hearing from you!
And finally, don't forget to subscribe to the show on iTunes to get automatic updates…see you next time!
Click the button below to subscribe on iTunes: