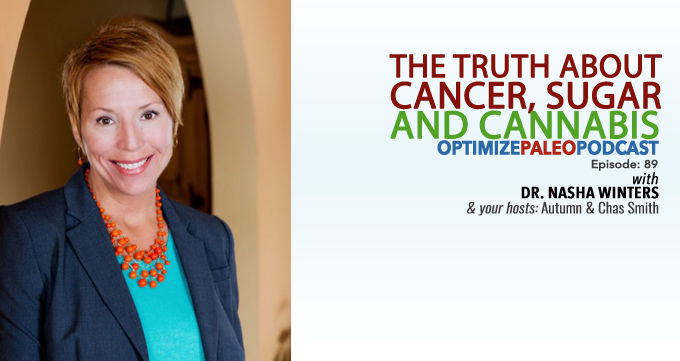 EP89: The TRUTH About Cancer, Sugar and Cannabis with Dr. Nasha Winters
Get Food to WORK for you, Not AGAINST you!
IN THIS EPISODE:
Dr. Nasha Winters, ND, FABNO, L.Ac, Dipl.OM is the visionary and CEO as well as best selling author, lecturer, and the primary consultant of Optimal TerrainTM. Informed by more than 25 years of experience in the health care industry and a thought leader in personalized precision medicine, Dr. Nasha works to educate clients, doctors and researchers world wide on how to apply integrative oncology philosophically and therapeutically. She is the author of an amazing book called The Metabolic Approach to Cancer: Integrating Deep Nutrition, the Ketogenic Diet, and Bioindividualized Therapies.
Here are some of the tidbits you're in for:
How she overcame stage 4 cancer
How she has remission rates of over 70% (and why they should be higher!)
The main food that feeds cancer
What an anti-cancer diet looks like
What the Metabolic Theory of Cancer is
Whether or not animal protein causes cancer
Why the QUALITY of your food makes all the difference
A simple trick you can use to block the over-absorption of iron
The MOST important test you need to have to design your perfect anti-cancer diet
Why having the BRCA1 gene does not mean you'll get cancer
What hormone that literally drives the cancering process
Where you can get your 23 & Me data analyzed
Whether or not cancer cells can thrive on ketones
The one food that will make all cancer treatments ineffective
Foods that support cancer treatment
Why it's important to avoid certain tampons
What you should do if you live near an airport
What the endocannabinoid system is and why it matters
Why today's marijuana is different
The important difference between CBD and THC
The #1 cause of emergency room visits in some places in Colorado
How to immediately remedy a "too high" experience
Whether or not you can buy marijuana
How you can learn more about the 10 steps you need to take to put cancer in remission
Whether or not Dr. Nasha thinks you should smoke marijuana
And so much more.
SHOW NOTES:
Thanks for listening!
Thanks so much for joining us this week. Have some feedback you'd like to share or a question you'd like to ask? Leave a note in the comment section below!
If you enjoyed this episode, please share it using the social media buttons you see in this post.
Also, we'd love it if you would leave an honest review for The Optimize Paleo Podcast on iTunes! Ratings and reviews are super helpful and greatly appreciated as it helps us expose this show to a wider audience and spread this information to more people who need to hear it. We read every review so we look forward to hearing from you!
And finally, don't forget to subscribe to the show on iTunes to get automatic updates…see you next time!
Click the button below to subscribe on iTunes: