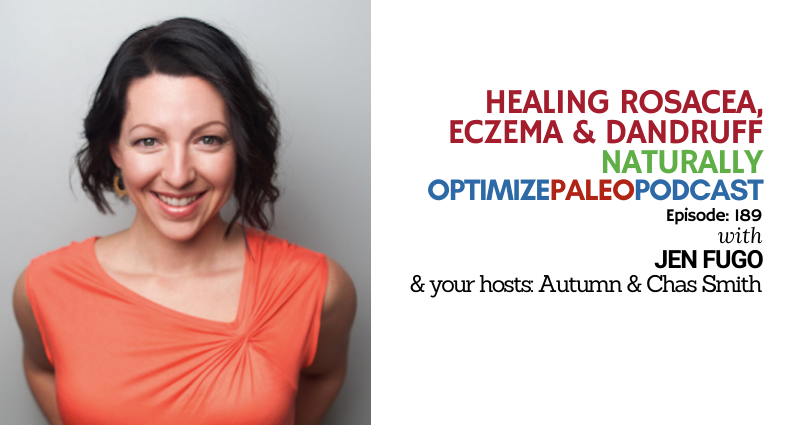 EP189: Healing Rosacea, Eczema & Dandruff Naturally with Jen Fugo
IN THIS EPISODE:
Rosacea. Dandruff. Eczema.
Most people would assume these skin issues originate in the skin but according to skin expert Jen Fugo (you may have seen her on Dr. Oz), many times they are caused by gut issues.
And that's exciting because there are a lot of simple steps you can take today to find relief and heal from the root cause of your skin issues!
So if you (or someone you know or love) suffers from rosacea, eczema, dandruff, or another annoying skin issue, please be sure to tune in to this fascinating conversation ASAP!
Here are some of the gems you'll learn:
The one natural skin oil you should never use on eczema
The best cream to use for eczema
Why essential oils are not good for certain skin issues
The gut issue that is commonly at the root of rosacea
The mistake most people make when it comes to food sensitivities
The link between leaky gut and leaky skin
A cheap way to identify your nutrient deficiencies
The simple steps you can take to resolve eczema, rosacea and dandruff
I LOVED this chat and I hope you do, too. Don't forget to help us spread the good word by tagging someone in the comments below who may need this important information.
Links / Offers
Get the FREE 7 Eczema-Soothing Smoothies Recipe Booklet HERE!
Register for the FREE Online Eczema & Psoriasis Awareness Week HERE!
Skinterrupt Interview: SIBO-Rosacea Connection w/ Dr. Leonard Weinstock
Skinterrupt Article: 4 Reasons Why Coconut Oil Is Bad For Your Skin
Skin Probiotics: Indigo Calm Balm
Khus-Khus Skincare: SEN Face Serum
Thanks for listening!
Thanks so much for joining us this week. Have some feedback you'd like to share or a question you'd like to ask? Email us at [email protected]!
If you enjoyed this episode, please share it using the social media buttons you see in this post.
Also, we'd love it if you would leave an honest review for The Optimize Paleo Podcast on iTunes! Ratings and reviews are super helpful and greatly appreciated as it helps us expose this show to a wider audience and spread this information to more people who need to hear it. We read every review so we look forward to hearing from you!
And finally, don't forget to subscribe to the show on iTunes to get automatic updates…see you next time!
Click the button below to subscribe on iTunes: