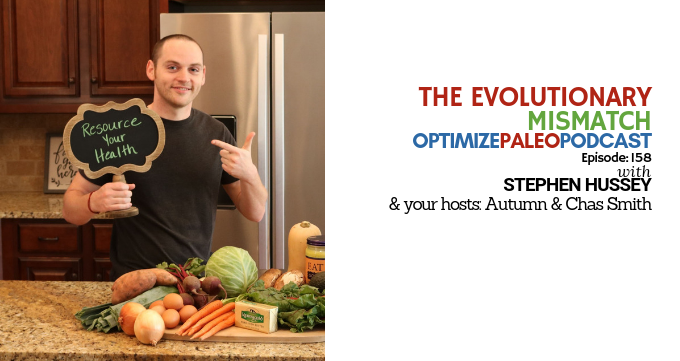 EP158: The Evolutionary Mismatch with Stephen Hussey
IN THIS EPISODE:
Imagine being diagnosed with Type 1 Diabetes at 9 years old.
After 10 years of trying to successfully manage your condition to no avail you end up in a freshman biology course that finally helps you understand WHY you developed an autoimmune disease and why chronic disease rates are rising rapidly.
And most importantly, WHAT you need to do to feel better than you ever have in your life.
This is what happened to this week's podcast guest, board certified chiropractic and Functional Medicine practitioner, Dr. Stephen Hussey.
Dr. Hussey has a bachelor's degree in Health and Wellness Promotion from the University of North Carolina Asheville, a Master's in Human Nutrition and Functional Medicine and a Doctorate of Chiropractic both from the University of Western States. He is the author of The Health Evolution: Why Understanding Evolution is the Key to Vibrant Health and The Heart: Our Most Medically Misunderstood Organ.
Dr. Hussey is passionate and super nerdy (in the best possible way!) which made for a fascinating conversation! Here are some of the fascinating tidbits you're in for...
What he did to manage his autoimmune condition
The food group that was wreaking havoc on his gut health
The 4 principles of evolution that explain the rise in chronic disease
The 5 imbalances that cause chronic disease
What 3 things TRULY cause heart disease
Why I used to pass out in high school
And so much more!
I hope you listen in and feel ENLIGHTENED and EMPOWERED, and then share this important information with everyone you know and love.
Thanks for listening!
Email Dr. Hussey at [email protected] for a FREE copy of his ebook, The Heart: Our Most Medically Misunderstood Organ.
Thanks for listening!
Thanks so much for joining us this week. Have some feedback you'd like to share or a question you'd like to ask? Email us at [email protected]!
If you enjoyed this episode, please share it using the social media buttons you see in this post.
Also, we'd love it if you would leave an honest review for The Optimize Paleo Podcast on iTunes! Ratings and reviews are super helpful and greatly appreciated as it helps us expose this show to a wider audience and spread this information to more people who need to hear it. We read every review so we look forward to hearing from you!
And finally, don't forget to subscribe to the show on iTunes to get automatic updates…see you next time!
Click the button below to subscribe on iTunes: