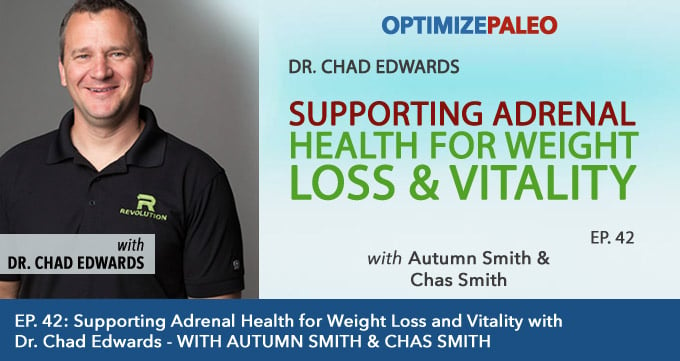 EP. 42: Supporting Adrenal Health for Weight Loss and Vitality with Dr. Chad Edwards
Is Adrenal Fatigue Stopping You From Vitality?
IN THIS EPISODE:
Dr. Edwards is board certified in Family Medicine by the American Board of Family Medicine and has a Family & Functional Medicine practice at Warren Clinic in Tulsa, Oklahoma paying special attention to sports medicine and health & wellness as a preventive strategy to optimize health, minimize injury risk, and decrease disease.
Most importantly, he is an adrenal fatigue EXPERT! And our conversation is truly enlightening.
Here's what you'll learn:
What adrenal fatigue is

Why mainstream medicine won't acknowledge its existence

Common symptoms of adrenal fatigue

Why hypoglycemia can be more dangerous than hyperglycemia

What adrenal issues have to do with the brain

What a normal cortisol curve looks like

Why adrenal fatigue can wreak havoc on hormonal health

Why adrenal fatigue can cause thyroid issues

Why fixing your adrenals can help you avoid thyroid meds

The 3 stages of adrenal fatigue

How to catch adrenal fatigue in the early stages

How to eat to balance the adrenals

Other steps you can take to prevent and reverse adrenal fatigue

It's truly an action-packed show!
SHOW NOTES:
Check out Dr. Chad Edward's Site Here:
http://www.revolutionhealth.org/
Get you free customized supplement assessment here:
http://www.revolutionhealth.org/supplementation/customized-supplementation/
Grab our personal favorite Ashwaganda Supplement here:
http://amzn.to/2cDJwxG
Thanks for listening!
Thanks so much for joining us this week. Have some feedback you'd like to share or a question you'd like to ask? Leave a note in the comment section below!
If you enjoyed this episode, please share it using the social media buttons you see in this post.
Also, we'd love it if you would leave an honest review for The Optimize Paleo Podcast on iTunes! Ratings and reviews are super helpful and greatly appreciated as it helps us expose this show to a wider audience and spread this information to more people who need to hear it. We read every review so we look forward to hearing from you!
And finally, don't forget to subscribe to the show on iTunes to get automatic updates…see you next time!
Click the button below to subscribe on iTunes: