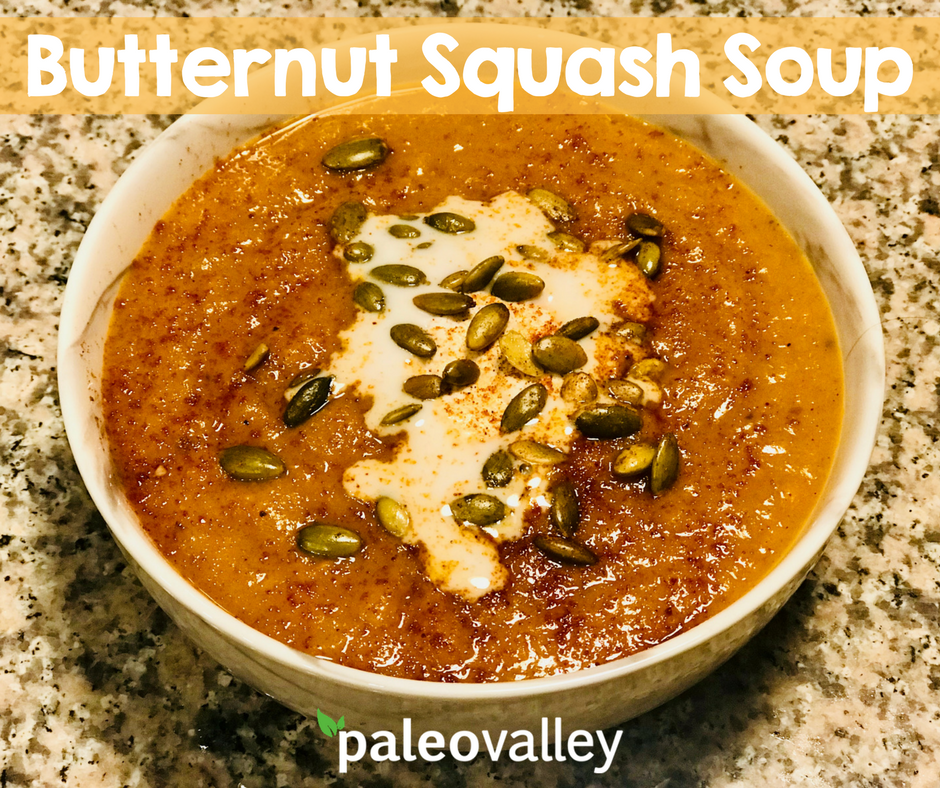 Butternut Squash Soup
THE perfect comfort food soup you HAVE to try!
I'm not crazy for butternut squash by any means. But this recipe sent me over the moon because it turned out so well.
My wife, Kayla, on the other hand, loves butternut squash soup and claimed this recipe is topping the list of her favorites.
The crunch from the pumpkin seeds and the aromatic flavors of the sage and fresh ginger pairs perfectly with the rich, full texture of the full-fat coconut cream.
Butternut Squash Soup
Yields 8-10 servings
Cooking Time: 30 minutes
Ingredients:
2 Tbsp coconut oil
1 medium sweet onion, chopped
3 garlic cloves, peeled and chopped
1 medium butternut squash, peeled, seeded and cut into 1-2 inch chunks
1 medium sweet potato, peeled and cut into 1-2 inch chunks
1 tart-sweet Apple (Pinky Lady or similar), cored and cut into 1-2 inch chunks
1 tsp dried sage
¼ tsp pumpkin pie spice
¼ tsp dried ginger
½ tsp kosher salt
⅛ tsp fresh cracked pepper
2 cups vegetable stock or chicken bone broth
½ can full-fat coconut milk
Toasted pumpkin seeds, coconut cream and smoked paprika for topping (optional)
Equipment:
Directions:
Set the Instant Pot to sauté and add your coconut oil. Once the screen reads "hot" and oil is melted, add onion and garlic. Cook, stirring occasionally until onion begins to soften, 3-5 minutes.
Add squash and the sweet potato then stir to combine. Cook another couple of minutes until squash begins to soften, stirring occasionally.
Press the cancel button on the screen, then add all other ingredients (except coconut milk). Stir to combine, then tighten the lid on the pot. Ensure vent valve is set to "sealing."
Press the "Manual" button, and set the timer to 10 minutes on high pressure. Once completed cooking and the pot beeps, let pressure release naturally. If you're in a hurry you can release manually, but be careful. Remove lid once pressure has dissipated.
Using an immersion blender, purée soup directly in the pot. Or you can transfer contents to a food processor or high powered blender. Blend until smooth, then add coconut milk and additional seasonings to taste. Blend again to combine.
Top with toasted pumpkin seeds, coconut cream, and a dash of smoked paprika if desired.
Enjoy this comfort food recipe that you can make in just 30 minutes!