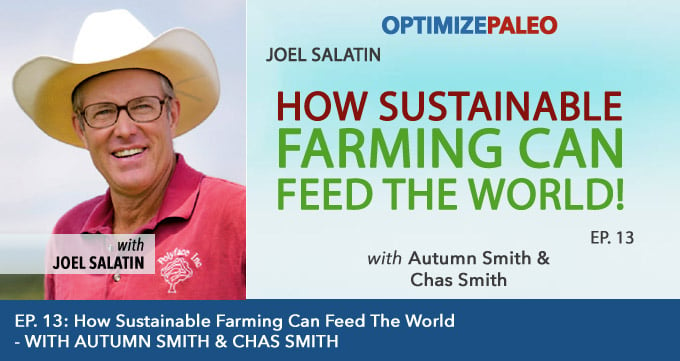 EP. 13: How Sustainable Farming Can Feed The World
Learn How We Can Stop World Hunger Together...
IN THIS EPISODE:
This thrilling episode features America's favorite farmer, Joel Salatin! Joel has literally revolutionized farming with his incredible books including Folks, This Ain't Normal; You Can Farm; and Everything I Want to do is Illegal. You may also recognize him from the documentary, Food Inc.
HE is truly unstoppable force in the sustainable food movement.
The best part is, he's just as articulate and entertaining as he is informative. In fact, he calls himself a lunatic farmer.
Believe me, you don't want to miss it. Especially if you've ever been told that the Paleo diet (brimming with its grass fed meats) is not sustainable.
Joel wholeheartedly disagrees.
In today's show you'll also learn:
Why Joel refuses to ship his product more than 4 hours from his farm
Why he has an open door policy and sign that reads "trespassers will be impressed."
Why it's important to let cows express their cowness
How a world-class & trail blazing, sustainable farm operates
How you can support farmers who are doing right by the planet AND your health
SHOW NOTES:
Check out Joel's Sustainable Farming website:
http://www.polyfacefarms.com/
Thanks for listening!
Thanks so much for joining us this week. Have some feedback you'd like to share or a question you'd like to ask? Leave a note in the comment section below!
If you enjoyed this episode, please share it using the social media buttons you see in this post.
Also, we'd love it if you would leave an honest review for The Optimize Paleo Podcast on iTunes! Ratings and reviews are super helpful and greatly appreciated as it helps us expose this show to a wider audience and spread this information to more people who need to hear it. We read every review so we look forward to hearing from you!
And finally, don't forget to subscribe to the show on iTunes to get automatic updates…see you next time!
Click the button below to subscribe on iTunes: