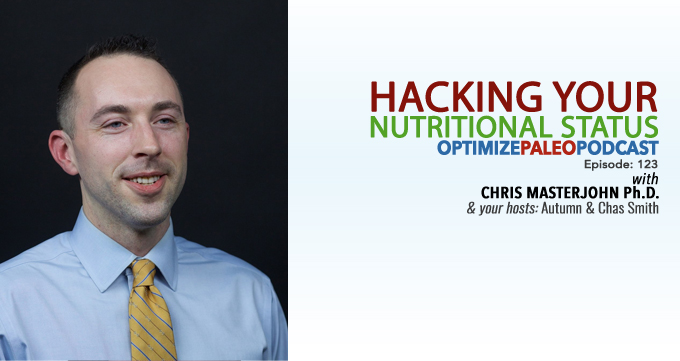 EP123: Hacking Your Nutritional Status with Chris Masterjohn Ph.D.
The Cheat Sheet Guide to Your Health!
IN THIS EPISODE:
Dr. Masterjohn earned his Ph.D. in Nutritional Sciences from the University of Connecticut in the summer of 2012. After graduation, he served as a postdoctoral research associate in the Comparative Biosciences department of the College of Veterinary Medicine at the University of Illinois at Urbana-Champaign and as Assistant Professor of Health and Nutrition Sciences at Brooklyn College, part of the City University of New York.
In the fall of 2016, he made the decision to leave academia and pursue entrepreneurship and he is currently conducting independent research, consulting, working on information products, collaborating on information and technology products, and producing tons of free content to help people gain better health.
Here's what you'll learn in our chat:
Dr. Masterjohn's story: 3:19
What the Ultimate Nutritional Cheat Sheet is and why you need it: 5:37
The best, one-stop-shop nutritional test: 14:11
A second effective test for those who want to spend less: 19:48
How to order your own labs: 20:50
How to use this cheat sheet with your doctor: 22:01
Why nutritional testing should be a priority: 27:22
Underlying issues associated with histamine reactions: 31:16
Why thriving on a low carb diet could be a sign of nutrient deficiency: 35:57
Whether pregnant women need to be careful about their vitamin A intake: 38:31
The perfect vitamin D level: 45:16
Why vitamin D status MUST be monitored: 47:10
Why lifeguards are more prone to kidney stones: 49:02
Connect with Dr. Masterjohn and get his cheat sheet: 52:43
Dr. Masterjohn's favorite healthy breakfast: 54:48
His favorite coffee replacement or do you drink coffee: 57:58
His favorite healthy snack: 58:38
The best strategy for overcoming cravings for junk food: 59:18
The best sleep hacks: 1:01:07
His favorite supplements: 1:02:10
His favorite way to burn fat (off of your body): 1:02:53
The one book he'd recommend to wellness warriors: 1:06:17
And so much more!
SHOW NOTES:
Thanks for listening!
Thanks so much for joining us this week. Have some feedback you'd like to share or a question you'd like to ask? Leave a note in the comment section below!
If you enjoyed this episode, please share it using the social media buttons you see in this post.
Also, we'd love it if you would leave an honest review for The Optimize Paleo Podcast on iTunes! Ratings and reviews are super helpful and greatly appreciated as it helps us expose this show to a wider audience and spread this information to more people who need to hear it. We read every review so we look forward to hearing from you!
And finally, don't forget to subscribe to the show on iTunes to get automatic updates…see you next time!
Click the button below to subscribe on iTunes: