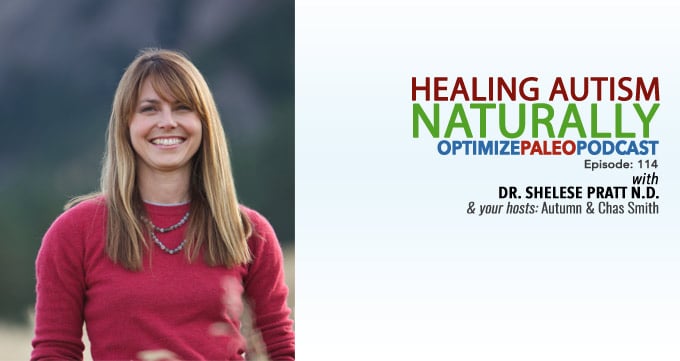 EP114: Healing Autism Naturally With Dr. Shelese Pratt N.D.
All you Need to Know About Autism and More
IN THIS EPISODE:
Dr. Shelese Pratt is a Naturopathic physician and an expert in neurology and complex medical conditions relating to metabolic disease. She uses functional medicine and her expertise in biochemistry (methylation) and physiology to help her patients get to the root cause of their symptoms through a strategic approach including nutrition (diet and nutritional supplements), botanicals, environmental medicine, classical homeopathy, and hydrotherapy.
She's best known for her breakthrough results with complex cases like Traumatic Brain Injury (TBI), Cerebral Palsy, PVL, Global Development Delay, Angelman Syndrome, learning difficulties (ADD, ADHD, and dyslexia), sensory processing disorders, autistic spectrum disorders, digestive system disorders/disease, endocrine disorders, autoimmune disease, and mood disorders.
Here are some of the nuggets you're in for
Dr. Pratt's story: 4:03
Why autism rates keep rising: 9:12
Common symptoms of Autism: 13:05
Different Types of Autism: 17:06
What her success rates are (this will make you smile!): 19:53
Epigenetic's and how they're related to Autism: 28:32
Common nutrient deficiencies associated with Autism: 31:20
How to get your children to eat more veggies: 35:45
Her favorite supplements for autistic children: 37:35
Three practical tips for reducing environmental factors: 43:42
Connect with Dr. Pratt: 51:36
And so much more!
SHOW NOTES:
Thanks for listening!
Thanks so much for joining us this week. Have some feedback you'd like to share or a question you'd like to ask? Leave a note in the comment section below!
If you enjoyed this episode, please share it using the social media buttons you see in this post.
Also, we'd love it if you would leave an honest review for The Optimize Paleo Podcast on iTunes! Ratings and reviews are super helpful and greatly appreciated as it helps us expose this show to a wider audience and spread this information to more people who need to hear it. We read every review so we look forward to hearing from you!
And finally, don't forget to subscribe to the show on iTunes to get automatic updates…see you next time!
Click the button below to subscribe on iTunes: