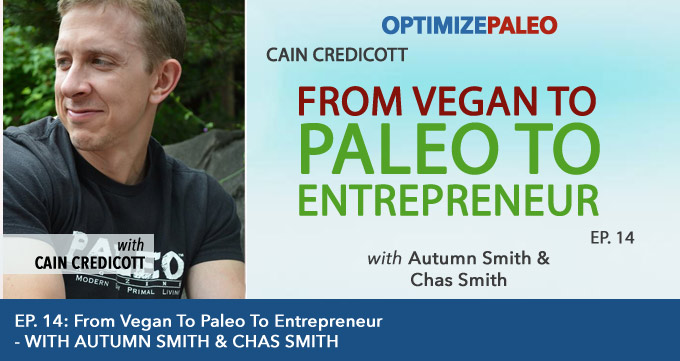 EP. 14: From Vegan To Paleo To Entrepreneur
One man's bizarre journey revealed...
IN THIS EPISODE:
In our fourteenth Optimize Paleo Podcast episode you will meet Cain Credicott, the magical man behind it all!
And like many of us who adopt the paleo diet, Cain has a transformative health story that is just as wonderful as his magazine.
And he's just a SUPER passionate guy too, so don't miss out!
In today's show you'll lear:
When Cain knew a vegan diet wasn't for him.
Why is so passionate about the Paleo diet
Why he thought a physical Paleo Magazine needed to happen
Why he maintains strict standards for those he allows to advertise
SHOW NOTES:
Check out Paleo Magazine's website:
https://paleomagonline.com/
Thanks for listening!
Thanks so much for joining us this week. Have some feedback you'd like to share or a question you'd like to ask? Leave a note in the comment section below!
If you enjoyed this episode, please share it using the social media buttons you see in this post.
Also, we'd love it if you would leave an honest review for The Optimize Paleo Podcast on iTunes! Ratings and reviews are super helpful and greatly appreciated as it helps us expose this show to a wider audience and spread this information to more people who need to hear it. We read every review so we look forward to hearing from you!
And finally, don't forget to subscribe to the show on iTunes to get automatic updates…see you next time!
Click the button below to subscribe on iTunes: