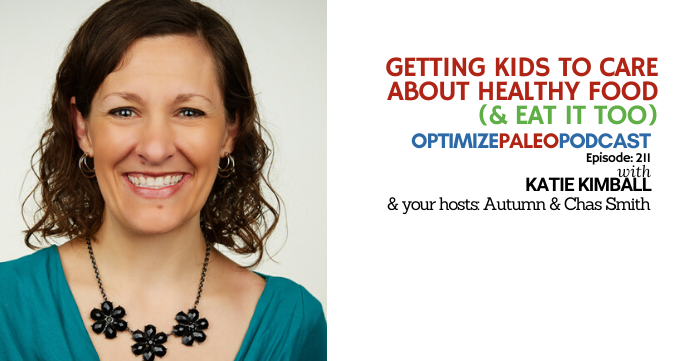 EP211: Getting Kids to Care About Healthy Food (& Eat It Too) with Katie Kimball
IN THIS EPISODE:
Getting our kids excited about whole foods today can feel like an uphill battle.
Junk food is everywhere.
There isn't always time to cook meals from scratch at home.
And for those of us who didn't grow up cooking, getting kids involved in the kitchen can be INTIMIDATING.
Thankfully, that can all change today because Katie Kimball, creator of Kids Cook Real Food Program is here today to teach us all how to get kids excited about food and cooking! As a former teacher, her strategies are cleverly curated and effective and I know you'll LOVE them.
(My Mav has officially completed her knife skills course and his kitchen confidence is soaring:)
Here are some of the awesome tips you're in for...
The biggest mistake we make as parents when trying to get our kids to eat healthfully
The 3 steps for avoiding power struggles at the dinner table
How to ensure your kids are hungry at dinnertime
A sample dinner plate for kids
How to get kids to understand the consequences of food
How to limit sweets, without completely depriving our kids of them
How to navigate Halloween gracefully
The age where you may want to stop policing sweets
The best way to get kids motivated to eat whole foods
Simple strategies for getting kids involved in the kitchen
The best time to get kids involved in the kitchen
How to teach kids to understand kitchen measurements
When it's time to raise your expectations in the kitchen
Why she doesn't recommend special knives for kids
How old kids should be before they use real knives
Strategies for handling food allergies and sensitivities gracefully
The #1 thing you must do when your kid feels left out due to a food sensitivity
How to keep kids excited about whole foods outside your home
The common mistake many parents make that encourages disordered eating
The food her neighbor removed to get rid of her headaches
And so much more!
Tune in now and share this information with all of the parents in your life!
Show Notes:
FREE: Knife Skills Class for Kids
Let's get your kids proficient with knives so they can eat healthfully their whole lives! Register for this FREE digital course TODAY!
Get Up to 24% OFF 100% Grass Fed Beef Sticks HERE!
Looking for a healthy snack for your little chefs? Stock up on Paleovalley's award-winning high-protein snack. The Summer Sausage flavor is an all-time kid favorite.
Bio:
Katie Kimball is the voice of healthy kids cooking working to restore the health of our young generation, one kitchen at a time. She's a cookbook author, Stress Mastery Educator, and regular TV contributor who has shared her journey to real food and natural living for 10 years at Kitchen Stewardship, a blog that helps families stay healthy without going crazy. Along with her 4 children, she created the Kids Cook Real Food eCourse to help other parents teach their kids to cook, build family connection in the kitchen and supercharge kids' confidence and creativity
Thanks for listening!
Thanks so much for joining us this week. Have some feedback you'd like to share or a question you'd like to ask? Email us at [email protected]!
If you enjoyed this episode, please share it using the social media buttons you see in this post.
Also, we'd love it if you would leave an honest review for The Optimize Paleo Podcast on iTunes! Ratings and reviews are super helpful and greatly appreciated as it helps us expose this show to a wider audience and spread this information to more people who need to hear it. We read every review so we look forward to hearing from you!
And finally, don't forget to subscribe to the show on iTunes to get automatic updates…see you next time!
Click the button below to subscribe on iTunes: