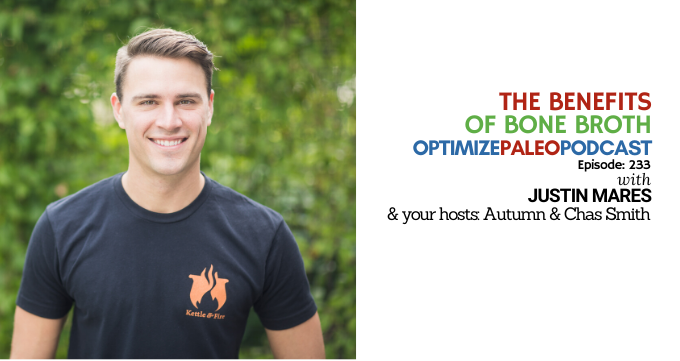 EP233: The Benefits of Bone Broth with Justin Mares
IN THIS EPISODE:
If you're trying to improve immune function - your gut health needs to be a MAJOR priority.
Afterall, approximately 70-80% of your immune system resides in your gut.
And while eliminating potentially problematic foods is a great place to start, adding the right kind of bone broth is another incredible (and delicious) healing strategy.
So if you've wanted to know all about the wonderful benefits of bone broth (and how to choose the highest quality versions) check out my enlightening interview with the founder of Kettle & Fire, the fastest growing bone broth company in the country, Justin Mares.
We talk about…
Why drinking bone broth is like taking your insides to the spa
The nutrient in bone broth that can help you chill out and sleep better
The nutrient that can help improve fat digestion
Why drinking bone broth is essential to an optimized paleo diet
Why bone broth helps heal a leaky gut
How to choose a high quality bone broth
And how Justin met Paris Hilton and P. Diddy (off topic but still fascinating:)
And so much more!
Tune in now and be sure to share this important information with everyone you think it might benefit!
Resources We Mention:
Get 15% OFF Kettle & Fire with Coupon Code: PALEOVALLEY
>>> Click HERE to get your Discount!
Bio:
Justin Mares is the Co-Founder and CEO of Kettle & Fire, the fastest-growing bone broth brand in the country. Justin started Kettle & Fire in 2015, when he was looking to incorporate bone broth into his daily life and to help his younger brother heal post knee surgery. Justin is also the Co-Founder & President of Perfect Keto. Perfect Keto has been providing people on a ketogenic diet, foods and supplements since 2016.
Prior to starting Kettle & Fire and Perfect Keto, Justin lived and worked in San Francisco. He ran growth for Exceptional Cloud Services, a software company acquired by Rackspace.Justin also co-wrote a book titled Traction: How Any Startup Can Achieve Explosive Customer Growth.
Justin was born and raised in Virginia. He obtained a bachelor's degree in Finance from The University of Pittsburgh. While earning his degree, Justin had his first experience in entrepreneurship and marketing; he started a company to help incoming students find better roommates. Upon graduating, he put that business aside to focus on other startups, investing and mentoring other young entrepreneurs.
Justin has been interviewed and featured on multiple podcasts providing people knowledge on health, trends in the marketplace and how to start and run multiple successful companies at one time.
Justin now resides in Austin, Texas where he focuses his time on his two CPG industry companies, Kettle & Fire and Perfect Keto. In his personal time, Justin enjoys blogging, reading and spending quality time with friends and family. You can find his writing about marketing and personal-development on justinmares.com. He can be reached via twitter, @jwmares
Thanks for listening!
Thanks so much for joining us this week. Have some feedback you'd like to share or a question you'd like to ask? Email us at [email protected]!
If you enjoyed this episode, please share it using the social media buttons you see in this post.
Also, we'd love it if you would leave an honest review for The Optimize Paleo Podcast on iTunes! Ratings and reviews are super helpful and greatly appreciated as it helps us expose this show to a wider audience and spread this information to more people who need to hear it. We read every review so we look forward to hearing from you!
And finally, don't forget to subscribe to the show on iTunes to get automatic updates…see you next time!
Click the button below to subscribe on iTunes: