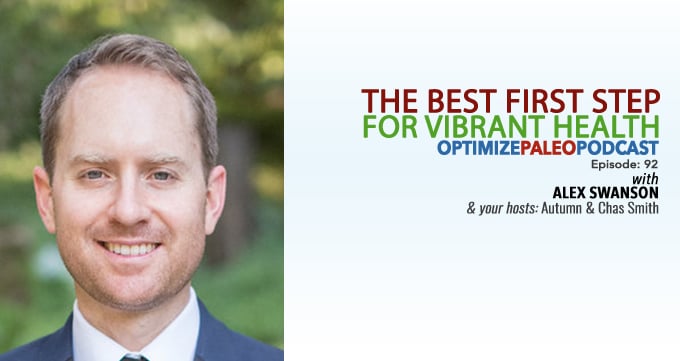 EP92: The Best FIRST Step for Vibrant Health with Alex Swanson
What Your GENES can Tell you and So Much More!
IN THIS EPISODE:
JUST A FRIENDLY REMINDER:
This podcast was recorded a month ago and Alex Swanson no longer recommends 23andme, due to changes the company has made to their DNA file. Please Advise!
In today's Podcast, we talk with Alex J. Swanson who is the founder of Nutrition Genome and creator of the software Genetrition™! He is a second generation nutritionist and co-owner of Swanson Health Center, a private family clinical nutrition practice that has been in business for over 40 years. He's also the creator of the popular blog, The Health Beat. He has a Post-B.A.C.C. in Nutrition Sciences from Bastyr University in Washington state, an M.S. in Applied Nutrition and Business Entrepreneurship from Northeastern University, a Certificate in Methylation and Clinical Nutrigenomics, and a Certificate in Genetics and Genomics from Stanford University.
Here are a few of the awesome nuggets you're in for:
Why some people shouldn't eat grains
Why certain people do better with less saturated fat
A type of "safe" saturated fat
Why certain individuals can drink caffeine and others can't
Why B vitamins are sometimes critical
Why synthetic folic acid can be very dangerous
Why some people need to be very careful about taking antidepressants, blood thinners, and cholesterol-lowering drugs
Why some people recover from exercise more quickly than others
Supplements to take to compensate for stress
Why I can run 5-7 miles with no problems but my husband can't
Why I SHOULD never play contact sports (this is so fascinating!)
Why I won't necessarily get Alzheimer's even though I have both genes for it! (YIKES!)
And so much more!
SHOW NOTES:
Thanks for listening!
Thanks so much for joining us this week. Have some feedback you'd like to share or a question you'd like to ask? Leave a note in the comment section below!
If you enjoyed this episode, please share it using the social media buttons you see in this post.
Also, we'd love it if you would leave an honest review for The Optimize Paleo Podcast on iTunes! Ratings and reviews are super helpful and greatly appreciated as it helps us expose this show to a wider audience and spread this information to more people who need to hear it. We read every review so we look forward to hearing from you!
And finally, don't forget to subscribe to the show on iTunes to get automatic updates…see you next time!
Click the button below to subscribe on iTunes: