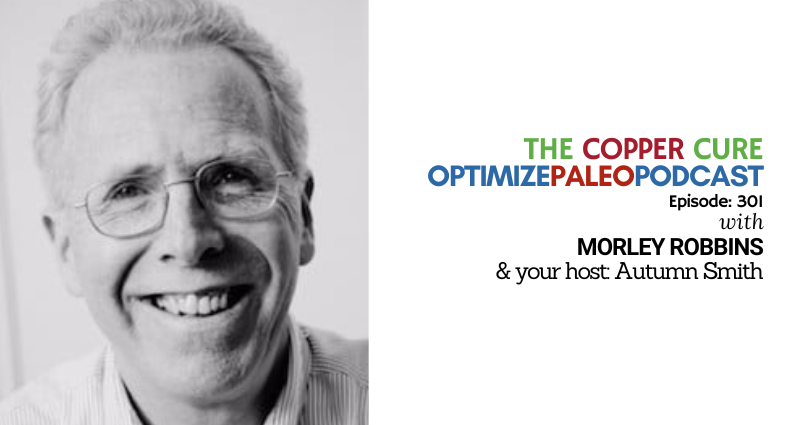 EP301: The Copper Cure with Morley Robbins
Iron deficiency anemia is the most common nutrient deficiency worldwide affecting more than one billion people resulting in symptoms like:
Weakness
Impaired cognitive function
Decreased immune function
Developmental issue
And while many of us turn to iron supplements to raise iron levels - Morley Robbins, mineral
expert, author of the Copper Cure, and today's podcast guest, believes there is much more to the story.
In fact, Morley believes iron deficiency anemia is a copper, rather than iron, issue.
Tune in to this week's podcast for a fascinating exploration of iron-related issues, the best foods and supplements for improving iron status, and these fun facts…
The valuable roles of copper for health
Symptoms of copper-deficiency
Why copper is misunderstood
The true causes of anemia
The food that cures anemia
How to improve copper status
Why ferritin is a poor marker for iron status in pregnancy
Why too much iron is harmful
The 3 best sources of whole-food copper
How to properly test copper and iron status
Common lifestyle factors that harm copper
When vitamin A toxicity may not be a concern
How to talk to your doctor about your copper/iron status
Morley has a grasp on the literature and practical implications of this topic, like no one else I have ever interviewed!!
I know you will love this conversation and I sincerely hope it's helpful!!
Valuable Resources:
Morley Robbins - Root Cause Protocol Institute
>>> Learn how your body works + How to support your health HERE!

Paleovalley Essential C Complex
>>> Try one of the best sources of copper through whole food Paleovalley Essential C Complex HERE!

Paleovalley Organ Complex
>>> CLICK HERE to Learn why Paleovalley Organ Complex is one of the most nutrient-dense superfoods in the world!

Paleovalley Supergreens
>>> Improve your health with 22 superfoods PLUS the cleanest Spirulina available with Paleovalley Organic Supergreens HERE!


Bio:
Morley Robbins, aka "Magnesium Man," is a self-taught mineral expert. While his stage name is "Magnesium Man," and he started the gotmag.org website, as well as a FB Group named Magnesium Advocacy Group, he ONLY writes and speaks about excess, unbound Iron, and its devastating oxidative impact on Copper and Magnesium status in our cells and in our body.

[url=https://therootcauseprotocol.com/category/research/iron-toxicity/]https://therootcauseprotocol.com/category/research/iron-toxicity/[/url]

Trust me, there's a REASON for that IRON-ic focus…

He has now written 75 Posts on Iron Toxicity, and will continue to do so, to bring GREATER awareness to the central roles that a LACK of Bioavailable Copper, and too little Magnesium, coupled with excess, unbound Iron play in ALL Chronic Disease, whether we're talking about heart disease, cancer, diabetes, obesity, osteoporosis, chronic fatigue, and any chronic condition borne out of Inflammation or autoimmune dysfunction. The unknown, untaught and undiagnosed, but undeniably foundational Copper <> Iron Dysregulation is the KEY to understanding today's pandemic of Chronic Disease.
Left unchecked, Copper<>Iron Dysregulation builds in the body, generates an imbalance of Reactive Oxygen Species (ROS) and this metabolic dyshomeostasis fosters the creation of what he calls the "Ferrous Wheel" of symptoms that sit in the seats. These Symptoms become the priority focus of practitioner interventions, but Morley teaches practitioners, from a wide spectrum of training, to FOCUS ON THE AXLE of Copper<>Iron Dysregulation, the SOURCE of the problem.

As a certified health coach, Morley has specialized expertise in interpreting mineral metabolism, particularly as impacted by "Stressors!" that are revealed in both HTMAs (Hair Tissue Mineral Analysis) and a specialized blood panel that he devised and trains practitioners to use in their practice. He has now performed over 5,500 one-on-one consultations with clients in 45 countries around the world, and has trained almost 200 professionals and laymen in these concepts through his Copernican Institute.
He has spoken regularly at Wellness Conferences in Chicago, IL and Los Angeles, CA and will be a speaker at The Forum for Integrative Medicine this March, 2019 in Seattle, WA. He is also a regular guest on about 15 different health-oriented Podcasts and Radio Shows.
His new website, [url=http://therootcauseprotocol.com/Resources]http://therootcauseprotocol.com/Resources[/url] has a treasure trove of information on his philosophy, protocol and papers on his daily research.
Thanks for Listening!
Thanks so much for joining us this week. Have some feedback you'd like to share or a question you'd like to ask? Email us at [email protected]!
If you enjoyed this episode, please share it using the social media buttons you see in this post.
Also, we'd love it if you would leave an honest review for The Optimize Paleo Podcast on iTunes! Ratings and reviews are super helpful and greatly appreciated as it helps us expose this show to a wider audience and spread this information to more people who need to hear it. We read every review so we look forward to hearing from you!
And finally, don't forget to subscribe to the show on iTunes to get automatic updates…see you next time!
Click the button below to subscribe on iTunes: