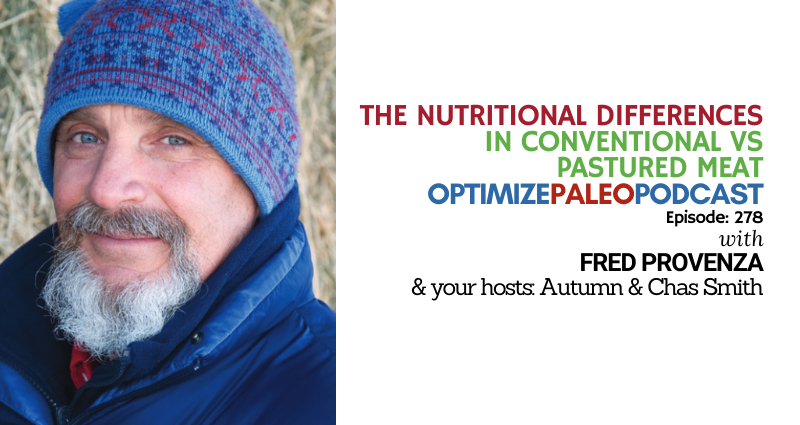 EP278: The Nutritional Differences in Conventional vs. Pastured Meat with Fred Provenza
A recent human trial demonstrated that eating wild meat (kangaroo) caused lower levels of post-meal inflammation than eating conventionally-raised beef.
In other words, how the animal was raised may have affected the level of inflammation in the body after eating it.
When people ate wild meat they had lower levels of inflammation and when they ate meat raised in confinement, they had higher levels of inflammation.
And while we don't yet know exactly why this happened, Dr. Fred Provenza, acclaimed author, professor and researcher believes it may have a lot to do with underrated, yet powerful nutrients called secondary compounds.
In fact, though you don't hear much about them, secondary compounds have been shown to…
Reduce inflammation
Provide antioxidant protection
Protect against cancer
Improve mood
Reduce the risk of diabetes
Help control appetite
And so much more!
Most importantly, the levels of secondary compounds change dramatically in meat depending upon what the animal ate and how it was raised.
Tune in to this week's fascinating podcast with Dr. Provenza to learn about the little-known, yet important, differences in grass-fed and conventionally raised meats and what it means for your health. Here are some of my favorite takeaways…
The benefits of secondary compounds for human health
The nutritional difference between pastured meats and CAFO meat
The demonstrated changes in human health when you eat CAFO vs. pastured meat
The difference between plant-based burgers and grass-fed beef
The environmental issues with plant-based burgers
Why (and how) animals benefit environmental health
Simple ways to get more secondary compounds in our diet
And much more!
Dr. Provenza is one of my favorite people I've ever interviewed!
He's passionate, educated, humble, kind and way ahead of his time!
Please share this podcast with anyone you think it may benefit.
Valuable Resources:
Nourishment: What Animals Can Teach Us about Rediscovering Our Nutritional Wisdom
>>> Learn more about Fred Provenza's book HERE!
Paleovalley 100% Grass Fed Beef Sticks
>>> Reduce post-meal inflammation with Paleovalley Grass Fed Beef Sticks HERE!
Thanks for Listening!
Thanks so much for joining us this week. Have some feedback you'd like to share or a question you'd like to ask? Email us at [email protected]!
If you enjoyed this episode, please share it using the social media buttons you see in this post.
Also, we'd love it if you would leave an honest review for The Optimize Paleo Podcast on iTunes! Ratings and reviews are super helpful and greatly appreciated as it helps us expose this show to a wider audience and spread this information to more people who need to hear it. We read every review so we look forward to hearing from you!
And finally, don't forget to subscribe to the show on iTunes to get automatic updates…see you next time!
Click the button below to subscribe on iTunes: