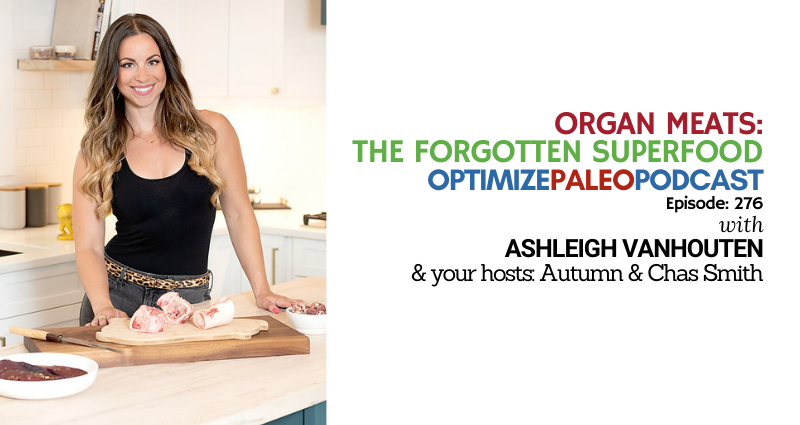 EP276: Organ Meats: The Forgotten Superfood with Ashleigh VanHouten
Did you know that the most nutrient-dense foods in the world are not plants?
Despite what you may have heard, organ meats are gram-for-gram the most nutrient-dense foods on the planet.
Which is likely why, whenever I eat them, my energy levels go through the roof!
And given that most of us are deficient in at least one nutrient today (according to the USDA), organ meats are one of the most important things you can eat to ensure all of your nutrient bases are covered.
The only problem?
Most people are grossed out by the thought of eating organs or do not like the taste.
Thankfully, there are ways to benefit from organ meats even if you do not like the taste, which is what today's fun podcast with author, speaker, health coach, and self-proclaimed muscle nerd, Ashleigh VanHouten is all about! Here's what you'll learn when you listen…
The #1 mistake women make when trying to lose fat
5 powerful reasons to eat organ meats
How to get the benefits of organs without the taste
The gateway organ meat (the organ meat to start eating first)
How to prepare organ meats for best results
Do organs store toxins?
How much organ meat should you eat per week?
Are organ meats from conventional beef safe?
Why most people are hesitant to try organ meats
The people who should be worried about vitamin A toxicity
Why protein is important for women
How to get more protein in your diet effortlessly
The best 3 ways to start to build more muscle
And so much more!
Listen in and please share this important information with anyone you think may benefit.
Thanks for listening, friends!
Valuable Resources:
It Takes Guts by Ashleigh VanHouten
>>> Click HERE to Get your FREE Ebook + Recipes to try NOW!
Organ Complex
>>> Click HERE to Avoid the taste of organs AND get a major Nutrient BOOST with Paleovalley's Organ Complex.
Bio:
Ashleigh is an author, speaker, podcast host, health coach, and self-proclaimed muscle nerd. Her first book, one of the only nose-to-tail, organ-meat centric cookbooks in existence, is called It Takes Guts, and she's currently working on her second high-protein cookbook which will be available in 2022. She is the host of the Muscle Maven Radio podcast, interviewing some of the leading minds in exercise and nutrition methodology and overall wellness. She's developed a range of coaching programs and workshops aimed at improving physical strength, overall wellness, and a deeper understanding of our bodies and optimal health.
Ashleigh is also a consultant in the fitness industry, helping others build their brand and communicate their messages to the world. In her downtime, Ashleigh is a nationally ranked natural figure competitor and also dabbles in powerlifting and BJJ, although her biggest hobby is trying to convince people to eat organ meat. Connect with Ashleigh on Instagram @themusclemaven or on her website, ashleighvanhouten.com
Thanks for Listening!
Thanks so much for joining us this week. Have some feedback you'd like to share or a question you'd like to ask? Email us at [email protected]!
If you enjoyed this episode, please share it using the social media buttons you see in this post.
Also, we'd love it if you would leave an honest review for The Optimize Paleo Podcast on iTunes! Ratings and reviews are super helpful and greatly appreciated as it helps us expose this show to a wider audience and spread this information to more people who need to hear it. We read every review so we look forward to hearing from you!
And finally, don't forget to subscribe to the show on iTunes to get automatic updates…see you next time!
Click the button below to subscribe on iTunes: