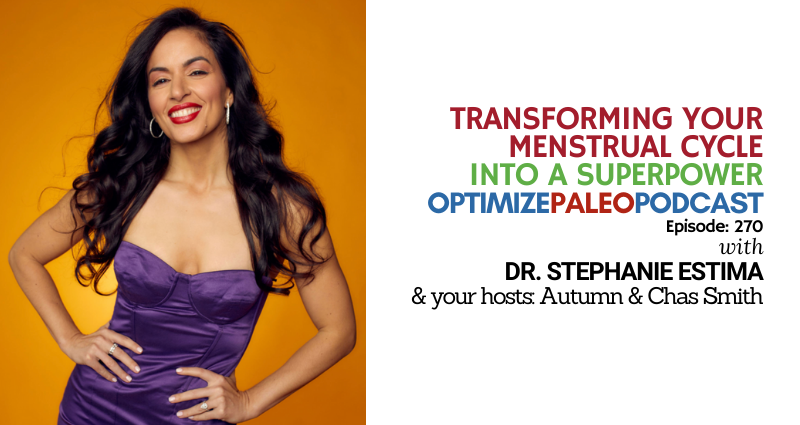 EP270: Transforming Your Menstrual Cycle Into a Superpower with Dr. Stephanie Estima
Many women today experience their menstrual cycle as a burden, rather than a superpower.
(I know because that used to be me.)
But the truth is, when we understand our cycle and the natural rhythm and hormonal shifts it creates, we can leverage those changes to accomplish some pretty amazing feats.
For example, there is a GREAT time of the month to eat more protein and build muscle.
There's also an ideal time to be social and work for tips.
And there is a surprisingly perfect time to reflect and reevaluate.
When you don't understand your cycle, these changes can seem overwhelming and unpredictable, but when you do, you can feel empowered and effective.
So if you're ready to turn your cycle into a superpower check out this week's podcast with the brilliant and beautiful, Dr. Stephanie Estima. Her knowledge is truly transformative.
Here are some of the fascinating tips we cover...
Her favorite protein for gaining muscle mass
2 simple steps for building muscle
Why insulin is important for women
The best time to eat carbs for women
The daily protein target for building muscle
Her #1 Health hack (that takes 5 minutes)
How Italy changed her period
The easy lifestyle changes that lead to better periods and weight loss
The phases of your cycle (and why they are important to understand!)
The best time of the cycle for your baby-making and libido
The best time of your cycle to be social and introspective
How to turn PMS into a gift
Why you feel so irritable before your period
The best foods to eat in early menopause
How to eat to balance estrogen with food
The healthy nutrient to avoid as you age
How, when, and how long to do keto for women
A simple tool for beating premenstrual cravings
When extra calories are necessary
How long to fast during your cycle
And so much more!
This has been one of my favorite interviews to date so don't miss this one! And do share with all of your friends, family, and loved ones who may benefit.
Valuable Resources:
The Betty Body Book by Dr. Stephanie Estima
>>> Get Your Book + FREE Bonus Gifts HERE!
Paleovalley Grass Fed Beef Sticks
>>> Try the Perfect Low-Carb Snack 100% Risk-Free TODAY!
Bio:
Dr. Stephanie is a doctor of chiropractic with a special interest in metabolism, body composition, functional neurology, and female physiology.
She's been featured on Thrive Global, of the Huffington Post, has over 3.5 million article reads on Medium.com and has helped thousands of women lose weight, regulate hormones, and get off medications with her signature program, The Estima Diet. You can hear her every week on her podcast, Better! With Dr. Stephanie.
Dr. Stephanie is changing the conversation around health, fitness, sex, intimacy, longevity, parenting, mindset, and pursuing excellence.
Her life's passion and mission is blending modern science with ancient wisdom to empower women's health and healing.
Thanks for Listening!
Thanks so much for joining us this week. Have some feedback you'd like to share or a question you'd like to ask? Email us at [email protected]!
If you enjoyed this episode, please share it using the social media buttons you see in this post.
Also, we'd love it if you would leave an honest review for The Optimize Paleo Podcast on iTunes! Ratings and reviews are super helpful and greatly appreciated as it helps us expose this show to a wider audience and spread this information to more people who need to hear it. We read every review so we look forward to hearing from you!
And finally, don't forget to subscribe to the show on iTunes to get automatic updates…see you next time!
Click the button below to subscribe on iTunes: