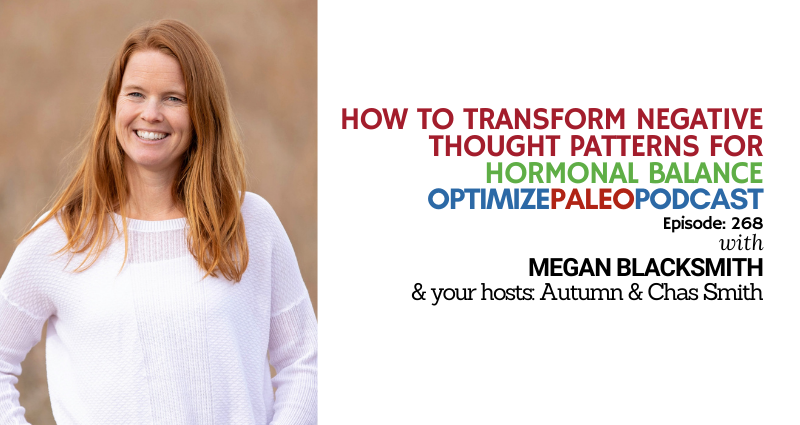 EP268: Transforming Negative Thought Patterns for Hormonal Balance with Megan Blacksmith
Many people today suffer from hormonal imbalance.
And while dietary change, detox, and supplements can be extremely helpful, sometimes it's not enough.
In fact, repeated negative thoughts (and thought patterns) can release stress hormones that wreak havoc on hormonal balance no matter how many other positive changes you make.
So if you've done all the right things and STILL suffer from hormonal issues, then today's podcast with certified holistic health coach, FDN practitioner, and hormone expert, Megan Blacksmith of Zesty Ginger is for you! Here are some of the topics we cover:
The food sensitivity that can cause only neurological symptoms
The link between your thoughts and food sensitivities
How to access your intuition
One simple step for building confidence
How thoughts affect neurotransmitters and hormones
A 4-step process for transforming your beliefs and thought patterns
The different emotional states of your cycle (and why it's helpful to know them!)
The best time of your month to slow down, be productive, and revaluate
How to separate your identity from your illness
2 health-supportive elixirs to start your day
And so much more!
Share this podcast with everyone you think it may benefit!
Valuable Resources:
Free Gift: Wild Feminine Guide
>>> Click HERE to Get your FREE Wild Feminine Guide for Healthy Hormones NOW!
Reduce Cortisol & Support Hormonal Health with Essential C Complex
>>> Click HERE to try the most potent whole-food vitamin C 100% Risk-Free TODAY!
Bio:
Megan Blacksmith is a certified holistic health coach, Functional Diagnostic Nutrition Practitioner, and also a graduate of Chris Kresser's ADAPT Practitioner training and is currently training to become an NLP practitioner.
After her own postpartum health crash (what she calls falling off the hormone cliff) after her first child 10 years ago, all her regular lab work said that she was "perfect" while she felt miserable Finding functional medicine. holistic nutrition and the power of the mind/body connection she was able to see that there really was an imbalance, and more importantly, there was something she could do about it!
In the Zesty Ginger duo of Megan and Dr. Alex, Megan focuses on the power of our thoughts, beliefs, energy, and frequency in a health journey.
Megan is one of the founders of the Healthy Hormones group program, Flight or Flight Fix and Zestier as well as co-host of the 4 Phase Cycle Podcast.
Thanks for Listening!
Thanks so much for joining us this week. Have some feedback you'd like to share or a question you'd like to ask? Email us at [email protected]!
If you enjoyed this episode, please share it using the social media buttons you see in this post.
Also, we'd love it if you would leave an honest review for The Optimize Paleo Podcast on iTunes! Ratings and reviews are super helpful and greatly appreciated as it helps us expose this show to a wider audience and spread this information to more people who need to hear it. We read every review so we look forward to hearing from you!
And finally, don't forget to subscribe to the show on iTunes to get automatic updates…see you next time!
Click the button below to subscribe on iTunes: