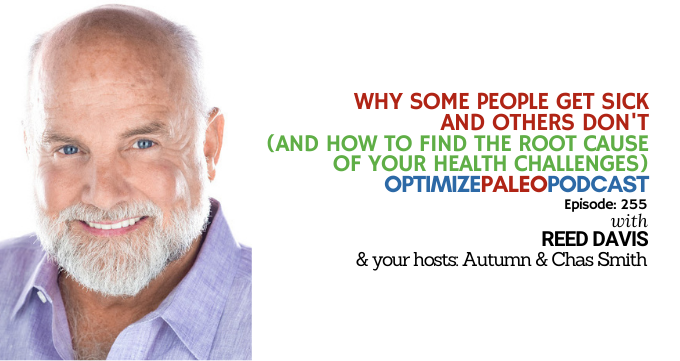 EP255: Why Some People Get Sick and Others Don't (and How to Find the Root Cause of Your Health Challenges) with Reed Davis
Jumping from diet to diet, pill to pill and/or protocol to protocol without relief can be exhausting.
It's a cycle many people (maybe even you) are trapped in today.
But the truth is - in order to feel vibrant long term (which is your birthright), you need to identify the root cause(s) of YOUR suffering.
For example, breakouts can be caused by MANY things such as...
Food allergies/intolerances
Blood sugar/insulin imbalances
Nutrient deficiencies
Stress
Hormonal dysfunction
Gut issues
Poor hygiene
And more
My cystic breakouts were tied to a garlic intolerance (of all things) which is why all of the other remedies I tried for YEARS (candida cleanse, lotions, microdermabrasion, face creams, etc.) didn't help.
And why the paleo diet wasn't enough for me to heal my skin.
In other words, different people with the same symptom may need different interventions AND sometimes lab testing can be invaluable for identifying your root issues.
It was this realization that brought me to Functional Diagnostic Nutrition (FDN). FDN is a training system that uses data-driven protocols and functional lab testing to help people identify the root cause (or causes) of their suffering.
It teaches people to identify their contributors to "metabolic chaos" AND how to systematically cultivate health.
I took this course nearly 2 years ago and it changed my life and the way I work with clients.
So if you're someone who would love to learn what it takes to get to the root cause of your health issues OR someone who would love to learn how to take their wellness practice to the next level, please tune in to today's podcast with the founder of FDN (and expert in functional lab testing), Reed Davis.
Here are a few of the gems you'll learn about...
Why some of us get sick and others don't
10 reasons people get "sicker quicker"
Why parasites and candida are not always the root issue
The most common types of gut bugs
The one belief I wish everyone had on their healing journey
What vitalism is - and why it's so important
The difference between not having symptoms and health
The Wellness Meter (and why you should know about it!)
The benefits of gut bugs
One of the biggest contributors to gut issues
The difference between common and normal symptoms
Reed's favorite recommendations for gut testing
The worst foods for gut health
Reed's favorite food sensitivity test
3 steps to improve gut health
How to become a health detective
And so much more!
The knowledge I gained from FDN was so empowering and helpful for me and all of my clients and I sincerely hope you love this interview as much as I did.
Valuable Resources:
Functional Diagnostic Nutrition Training
>>> Click HERE to learn how to join the FDN Certification Course & Community
Bio:
Reed Davis, Board Certified Holistic Health Practitioner (HHP) and Certified Nutritional Therapist (CNT), is an expert in functional lab testing and holistic lifestyle medicine. He is the Founder of Functional Diagnostic Nutrition® (FDN) and the FDN Certification Course with over 3000 graduates in 50 countries. Reed served as the Health Director at a Wellness Center in Southern California for over 10 years and with over 10,000 clients is known as one of the most experienced clinicians in the world. Reed serves on the Advisory Board of the American Natural Wellness Coaches Board and the American Association of Natural Wellness Coaches. He lives in the US and when not teaching the FDN Certification Course and helping his graduates build their private practices, he is usually found gardening or riding motorcycles.

Thanks for Listening!
Thanks so much for joining us this week. Have some feedback you'd like to share or a question you'd like to ask? Email us at [email protected]!
If you enjoyed this episode, please share it using the social media buttons you see in this post.
Also, we'd love it if you would leave an honest review for The Optimize Paleo Podcast on iTunes! Ratings and reviews are super helpful and greatly appreciated as it helps us expose this show to a wider audience and spread this information to more people who need to hear it. We read every review so we look forward to hearing from you!
And finally, don't forget to subscribe to the show on iTunes to get automatic updates…see you next time!
Click the button below to subscribe on iTunes: