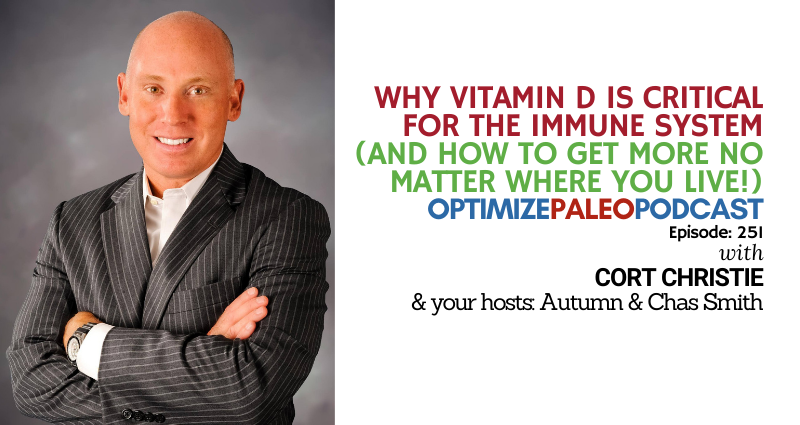 EP251: Why Vitamin D is Critical for the Immune System 〈and How to Get More No Matter Where You Live!〉 with Cort Christie
I think pretty much everyone today is aware that vitamin D is critical for immune (and overall) health. In fact, vitamin D deficiency has been linked to an increased risk of health issues like:
Heart attack
Cancer
Diabetes
Asthma
Autoimmune disease
Unfortunately, MANY people today are vitamin D deficient and don't know it.
Not to mention the fact that vitamin D supplements are not always enough.
Which is exactly why I invited Cort Christie (CEO and owner of Sperti Sunlamps) to talk all about the benefits of vitamin D and how to safely improve your levels in the comfort of your own home!
Cort has been in the therapeutic light space for over a decade and has partnered with experts like Dr. Holick (author of the Vitamin D Solution) to create the only FDA-approved at-home sun lamp that has been empirically shown to significantly raise vitamin D levels in only minutes a day!
We have been using it in our home, and LOVING it! (even with my 5 year old son, Maverick!)
There is no more important time to mind your vitamin D status than today, so tune in now to learn all about the importance of vitamin D and what you can do to improve your vitamin D levels now!
Here are some of the fun facts you'll learn...
Why vitamin D is critical for immune health
Why vitamin D supplements are not always enough (and what to do about it!)
How to test your vitamin D levels at home
The link between vitamin D deficiency and skin issues
The common skin product that can interfere with vitamin D production
The best resource for information on vitamin D deficiency
The level of vitamin D you want to stay above
Why so many of us are vitamin D deficient and undiagnosed
Who is most at risk for vitamin D deficiency
Why light can positively impact your mood (and serotonin levels)
The difference between tanning lights and vitamin D lamps
How to use a vitamin D lamp with your kids
And so much more!
Please share this podcast with everyone you know who would benefit from this important information! And don't forget to listen to the end to learn about the special deal Cort is offering our audience!
Stay well!

Valuable Resources:
Learn more about Sperti Vitamin D Sunlamp HERE!
Get 10% OFF with Sperti discount code: PaleoPodcast10
Learn more about Paleovalley Grass Fed Organ Complex HERE!
Try this vitamin D-rich supplement risk-free + get up to 20% OFF today!
Thanks for listening!
Thanks so much for joining us this week. Have some feedback you'd like to share or a question you'd like to ask? Email us at [email protected]!
If you enjoyed this episode, please share it using the social media buttons you see in this post.
Also, we'd love it if you would leave an honest review for The Optimize Paleo Podcast on iTunes! Ratings and reviews are super helpful and greatly appreciated as it helps us expose this show to a wider audience and spread this information to more people who need to hear it. We read every review so we look forward to hearing from you!
And finally, don't forget to subscribe to the show on iTunes to get automatic updates…see you next time!
Click the button below to subscribe on iTunes: