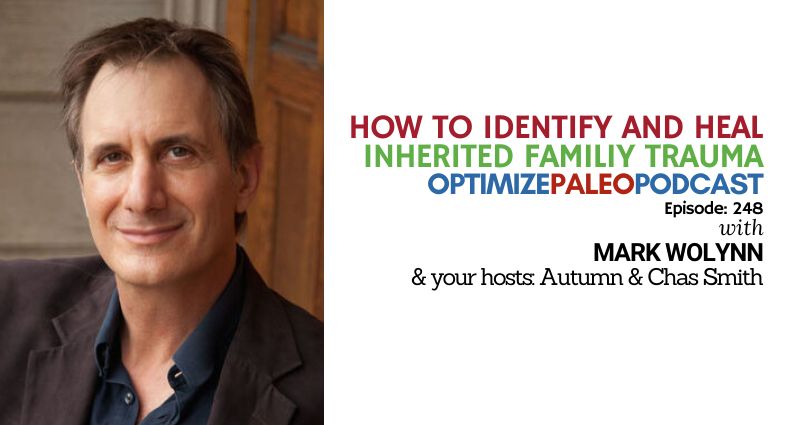 EP248: How to Identify and Heal Inherited Family Trauma with Mark Wolynn
Many of us suffer from symptoms and mental health struggles we can't explain.
We feel anxious.
We self-sabotage.
We experience depression.
We have illogical fears.
And despite our best efforts to lead a healthy lifestyle, something still feels "off."
According to new research, this may be due to inherited family trauma.
In fact, recent research has revealed we can inherit trauma (just like we do our hair or eye color) that can cause measurable changes in our DNA for several generations.
Which means you may be feeling or behaving in a certain way, because your parents or grandparents experienced a traumatic event rather than because there is something wrong with YOU.
If this idea is as liberating and fascinating for you as it was for me, please tune in to this week's podcast with award winning author of It Didn't Start with You, Mark Wolynn!
We discuss the science behind inherited family trauma, how to identify it and (most importantly) what you can do today to overcome it.
The stories he shares will literally make your hair stand on end and I sincerely hope you love this conversation as much as I did.
Don't forget to share this conversation with anyone you think it might benefit!

Valuable Resources:
It Didn't Start with You: How Inherited Family Trauma Shapes Who We Are and How to End the Cycle by Mark Wolynn
>>> Get the book HERE!
Support Mental Health and Brain Function with NeuroEffect
>>> Try the most potent whole-food mushroom supplement 100% Risk-Free HERE!
Bio:
Mark Wolynn, director of the Family Constellation Institute in San Francisco, is a leading expert in the field of inherited family trauma. He is the author of IT DIDN'T START WITH YOU: How Inherited Family Trauma Shapes Who We Are and How to End the Cycle (Viking/Penguin), winner of the 2016 Nautilus Book Award in psychology. His articles have appeared in Psychology Today, Mind Body Green, MariaShriver.com, Elephant Journal and Psych Central, and his poetry has been published in The New Yorker.
Thanks for listening!
Thanks so much for joining us this week. Have some feedback you'd like to share or a question you'd like to ask? Email us at [email protected]!
If you enjoyed this episode, please share it using the social media buttons you see in this post.
Also, we'd love it if you would leave an honest review for The Optimize Paleo Podcast on iTunes! Ratings and reviews are super helpful and greatly appreciated as it helps us expose this show to a wider audience and spread this information to more people who need to hear it. We read every review so we look forward to hearing from you!
And finally, don't forget to subscribe to the show on iTunes to get automatic updates…see you next time!
Click the button below to subscribe on iTunes: