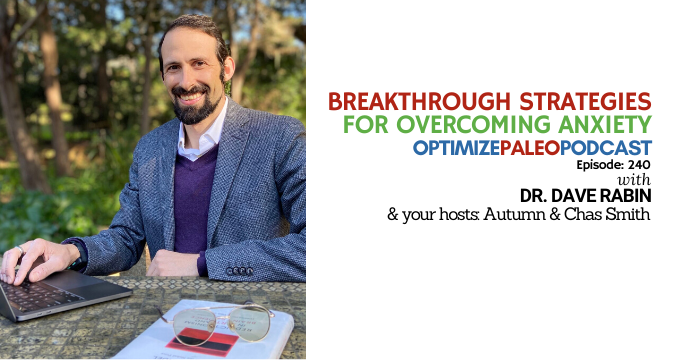 EP240: Breakthrough Strategies for Overcoming Anxiety with Dr. Dave Rabin
IN THIS EPISODE:
I don't know anyone today who isn't feeling a little anxious.
And experts predict the mental health crisis will get much worse given our current pandemic.
Which is why I couldn't be more excited to share one of the most brilliant neuroscientists and psychiatrists I have ever met, Dr. Rabin. In this week's podcast we talk all about the limitations of our current mental health treatments and breakthrough (and researched-backed) strategies for overcoming anxiety and other mental health issues.
As someone who is constantly searching for natural solutions for anxiety - this has been one of the most impactful podcasts I've ever recorded.
Here are some of the awesome topics we dive into:
The shocking truth about most mental health medicines
His brain-boosting daily smoothie recipe
Little known and incredibly effective psychiatric medicines
The benefits of medicinal mushrooms (and his favorite brands)
The 2 things he's doing everyday for a healthy immune system
Why he doesn't like the word anxiety
How to get the powerful brain benefits of meditating (even if you don't meditate)
A simple strategy for helping your kids feel calmer
What resilience is and why it matters
The question you must ask yourself to build resilience
A DIY way to measure how your body handles stress
The "ideal" range for heart rate variability
The best ways to measure heart rate variability
Why feeling SAFE is central to vibrant health
Three tools (you can use everyday) to shut down your fear response
The breakthrough wearable technology that can improve feelings of safety, reduce anxiety and improve overall health
What FLOW is and how you can measure it
What the default mode network is - and how we can turn it off
2 psychiatric medicines with "breakthrough" status
And so much more!
I sincerely hope this podcast is as enlightening for you as it was for me!


Valuable Resources:
Learn more about the Apollo + Get 15% off HERE!
Bio:
Dr. David Rabin MD, PhD, a board-certified psychiatrist and translational neuroscientist, is the Chief Innovation Officer, Co-Founder, and Co-Inventor at Apollo Neuroscience; the first scientifically-validated wearable system to improve HRV, focus, sleep, and access to meditative states by delivering gentle layered vibrations to the skin. Dr. Rabin has also organized the world's largest controlled study of psychedelic medicines in collaboration with colleagues at Yale, the University of Southern California, Mt. Sinai, Modern Spirit, and MAPS (Multidisciplinary Association of Psychedelic Studies) to determine the mechanisms of the dramatic therapeutic benefits observed following psychedelic-assisted psychotherapy in treatment-resistant mental illness.
Thanks for listening!
Thanks so much for joining us this week. Have some feedback you'd like to share or a question you'd like to ask? Email us at [email protected]!
If you enjoyed this episode, please share it using the social media buttons you see in this post.
Also, we'd love it if you would leave an honest review for The Optimize Paleo Podcast on iTunes! Ratings and reviews are super helpful and greatly appreciated as it helps us expose this show to a wider audience and spread this information to more people who need to hear it. We read every review so we look forward to hearing from you!
And finally, don't forget to subscribe to the show on iTunes to get automatic updates…see you next time!
Click the button below to subscribe on iTunes: