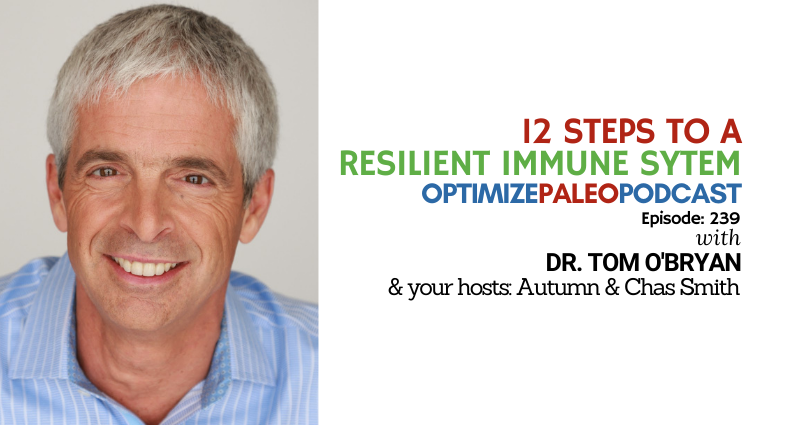 EP239: 12 Steps to a Resilient Immune System with Dr. Tom O'Bryan
IN THIS EPISODE:
If you want to learn about 12 steps you can take today to build a resilient immune system - tune in to this week's INCREDIBLE podcast with best selling author and immune expert, Dr. Tom O'Bryan.
Here are some of the fascinating facts we chat about:
The little known cause of brain issues (and the simple fix)!
Factors that make you vulnerable to viruses
How to know if you have a strong immune system
The mainstream medical procedure that killed over 80% of the people using it
The most common causes of a weakened immune system
The food that gives people leaky gut every time they consume it
The commonly used substance that triggers your immune system
The toxin that kills brain cells
The bedroom toxin that triggers your immune system
The question you must ask yourself to build a stronger immune system
The simple natural home addition that improves air quality
The best food sensitivity (and leaky gut) test on the market
Why many people don't get enough prebiotics
The 5 step process for a healthier microbiome (and immune system)
The simple recipe that improves gut health dramatically
The nutrient that stops viral shedding
What an ionophore is and why you need to know about it
Why the right type of tonic water may improve immune function
The best type of vitamin C
How much vitamin C Dr. O'Bryan takes every day
How to check your vitamin D status (and why it matters)
How to prevent a cytokine storm
And so much more!
There is almost nothing more important than a healthy immune system today so please share this important information with anyone and everyone you love!
Valuable Resources:
Download your FREE Home Detox Guide from Dr. Tom HERE!
Check out Dr. Tom's Books HERE!
Get Up to 21% OFF Paleovalley Essential C Complex HERE!
Bio:
Dr. O'Bryan is considered a 'Sherlock Holmes' for chronic disease and teaches that recognizing and addressing the underlying mechanisms that activate an immune response is the map to the highway towards better health. He holds teaching Faculty positions with the Institute for Functional Medicine and the National University of Health Sciences. He has trained and certified tens of thousands of practitioners around the world in advanced understanding of the impact of wheat sensitivity and the development of individual autoimmune diseases.
When it comes to getting healthy, Dr. Tom O'Bryan's goal for you is 'Making It Easy To Do the Right Thing'. As an internationally recognized, admired and compassionate speaker focusing on food sensitivities, environmental toxins, and the development of autoimmune diseases, Dr. Tom's audiences discover that it is through a clear understanding of how you got to where you are, that you and your Dr. can figure out what it will take to get you well.
Thanks for listening!
Thanks so much for joining us this week. Have some feedback you'd like to share or a question you'd like to ask? Email us at [email protected]!
If you enjoyed this episode, please share it using the social media buttons you see in this post.
Also, we'd love it if you would leave an honest review for The Optimize Paleo Podcast on iTunes! Ratings and reviews are super helpful and greatly appreciated as it helps us expose this show to a wider audience and spread this information to more people who need to hear it. We read every review so we look forward to hearing from you!
And finally, don't forget to subscribe to the show on iTunes to get automatic updates…see you next time!
Click the button below to subscribe on iTunes: