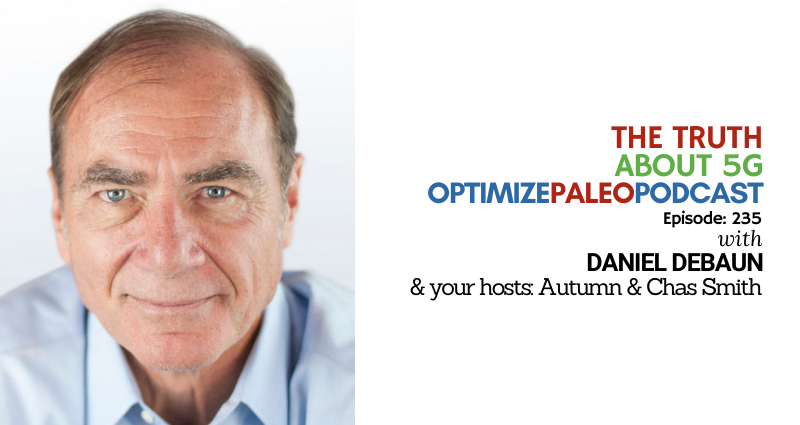 EP235: The Truth About 5G with Daniel DeBaun
IN THIS EPISODE:
You've probably seen a lot of chatter lately about 5G.
Today's podcast with EMF expert Daniel DeBaun, The Truth About 5G, will help you get to the bottom of what 5G is, what the research actually says about its safety and what you need to do to protect yourself and your family.
Don't forget to share this important information with anyone you think it might benefit!
Resources We Mention:
Learn more about Defender Shield HERE
+ get 10% OFF with discount code: PALEOVALLEY
Support Your Immune System with Essential C Complex HERE
+ get up to 21% OFF + FREE Shipping on orders over 3 bottles
Bio:
Daniel DeBaun is an internationally recognized expert in EMF radiation, EMF shielding, and EMF-related health issues with special focus on the effect of exposure from mobile devices such as laptops, tablets, and cell phones. Daniel's concern regarding the health impact of EMF emissions grew from over thirty years of engineering experience in the telecommunications industry, where he held a variety of executive positions at SAIC, Telcordia, AT&T, and Bell Labs. He is the co-author of Radiation Nation: The Fallout of Modern Technology.
Thanks for listening!
Thanks so much for joining us this week. Have some feedback you'd like to share or a question you'd like to ask? Email us at [email protected]!
If you enjoyed this episode, please share it using the social media buttons you see in this post.
Also, we'd love it if you would leave an honest review for The Optimize Paleo Podcast on iTunes! Ratings and reviews are super helpful and greatly appreciated as it helps us expose this show to a wider audience and spread this information to more people who need to hear it. We read every review so we look forward to hearing from you!
And finally, don't forget to subscribe to the show on iTunes to get automatic updates…see you next time!
Click the button below to subscribe on iTunes: