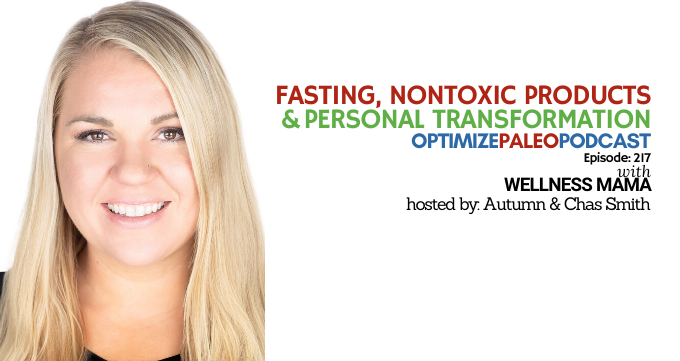 EP217: Fasting, Nontoxic Products & Personal Transformation with Wellness Mama
IN THIS EPISODE:
Many of the personal care products on the market today are FILLED with toxic chemicals linked to detrimental health outcomes.
And while we'd like to believe the FDA will protect us from these dangerous ingredients, it actually has FAR less oversight and power than we'd like to believe.
Which is why it's absolutely vital we educate ourselves and support companies making truly non-toxic products.
The only problem?
Many of the "clean" products on the market simply don't work.
Most of the hair care products I've used, for example, leave my hair dry and dull.
Fortunately, that's all about to change because one of the most influential people in health and wellness, The Wellness Mama, joins us today to talk all things fasting, toxins, non-toxic personal care products.
She's spent the last decade researching and perfecting products that not only eliminate toxic chemicals, but that also add nourishing ingredients.
So if you're ready to ditch the toxins (and dull, dry hair) and upgrade your personal care routine, tune in NOW!
We cover these fascinating topics:
The ingredient found in "natural" toothpaste that can harm your teeth
The ingredient that can actually HEAL certain cavities
The herb that makes your hair to grow stronger and longer
The vitamin that can cure acne
The 3 healthy habits Katie does daily
The health hack Katie wishes she used more
The benefits of cold water therapy and sauna (and when to use them!)
How to curb cravings during a fast
Body image issues (and how to break through them)
This was one of the most inspiring podcasts I've recorded to date, which is why I couldn't wait to share it as we start the new year.
I hope you love it as much as I did.
Happy New Year, Wellness Warriors!
Links
Wellnesse Website
Safe, natural, and truly non-toxic personal care products that work better than conventional alternatives.
Wellnesse Facebook Page
Follow Wellnesse on Facebook to learn more about high-quality and responsibly sourced personal care products.
Wellness Mama Website
The most trusted online resource for naturally minded moms and health conscious consumers.
Bio
Katie, the "Wellness Mama" is a wife and mom of six, as well as an award-winning blogger, author, podcaster and real food crusader. Her mission with WellnessMama.com is to provide simple answers for healthier families through practical tips, real food recipes, natural beauty and cleaning tutorials, natural remedies and more. As a mom of six, Katie has developed systems and tips for living a Wellness Lifestyle™ with a family and on a budget and she was named by greatist.com as one of the 100 most influential people in health and wellness along with Dr. Oz, Dr. Mercola, Food Babe and Tim Ferriss. She writes at WellnessMama.com and can be found on Facebook, Twitter, Instagram, and Pinterest. She is also the creator behind Wellnesse, the first line of commercially available personal care products based on the DIY creations she has been making in her kitchen for years.
Thanks for listening!
Thanks so much for joining us this week. Have some feedback you'd like to share or a question you'd like to ask? Email us at [email protected]!
If you enjoyed this episode, please share it using the social media buttons you see in this post.
Also, we'd love it if you would leave an honest review for The Optimize Paleo Podcast on iTunes! Ratings and reviews are super helpful and greatly appreciated as it helps us expose this show to a wider audience and spread this information to more people who need to hear it. We read every review so we look forward to hearing from you!
And finally, don't forget to subscribe to the show on iTunes to get automatic updates…see you next time!
Click the button below to subscribe on iTunes: