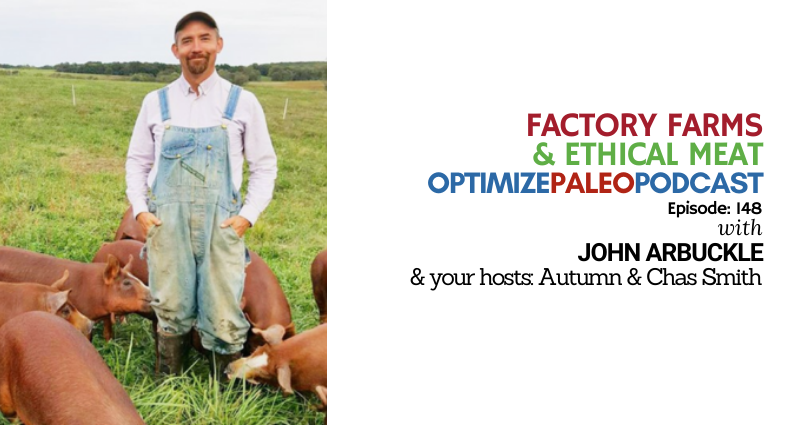 EP148: Factory Farms & Ethical Meat with John Arbuckle
IN THIS EPISODE:
Did you know that 97% of pork, almost 100% of chicken and 70-80% of beef purchased today in America comes from factory farms?
And in case you don't know, every time you buy conventionally raised meat you're:
Consuming fewer nutrients and more inflammatory fats
Contributing to environmental destruction
Supporting animal cruelty
Allowing for the overuse of antibiotics
We've all seen the pictures of what happens on certain factory farms and it's not pretty.
Now we're all told the solution is to "vote with our dollar" which IS important, but due to clever marketing tactics and secret loopholes, even the most conscientious consumers can get duped.
Which is why today's podcast with Founder of Singing Prairie Farms (and the most passionate pig farmer I've ever met), John Arbuckle, is all about the MANY issues with factory farms, secret loopholes and practices that degrade "grass fed" beef (sadly, some can still be fed GMOs), and how to find and define truly ethical meat.
I've never met a man more passionate and poetic about his work so don't you dare miss this episode!
You'll also learn all about our newest project, Wild Pastures, and how to get sustainable, pasture-raised animal products delivered straight to your door for lower prices than you'll find anywhere else!
EVERYONE deserves access to the highest quality animal products and we can change this broken system, friends, but we're going to need your help! So listen in and share this important podcast with anyone you think it might benefit.
<3

Links:
Check out Wild Pastures Here! https://wildpastures.com
Connect with John and explore his mission: http://www.singingprairiefarms.com/
Thanks for listening!
Thanks so much for joining us this week. Have some feedback you'd like to share or a question you'd like to ask? Email us at [email protected]!
If you enjoyed this episode, please share it using the social media buttons you see in this post.
Also, we'd love it if you would leave an honest review for The Optimize Paleo Podcast on iTunes! Ratings and reviews are super helpful and greatly appreciated as it helps us expose this show to a wider audience and spread this information to more people who need to hear it. We read every review so we look forward to hearing from you!
And finally, don't forget to subscribe to the show on iTunes to get automatic updates…see you next time!
Click the button below to subscribe on iTunes: