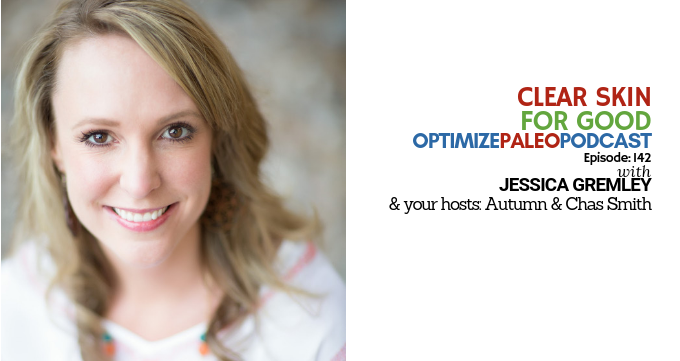 EP142: Clear Skin For Good with Jessi Gremley
IN THIS EPISODE:
Do you suffer from acne that sucks the joy out of life?
I used to. I suffered from acne for about 15 years despite trying every acne product under the sun. My acne was so painful that I frequently opted out of fun plans with friends and spent wayyyy too much time hiding due to a SEVERE lack of confidence.
And YES, I did discover gut health issues and food sensitivities that were contributing. Which was awesome and helped TREMENDOUSLY, but it wasn't until I moved to Boulder, CO and found Jessi, that I stopped breaking out altogether.
Jessi is An Acne Specialist, Medical Esthetician, and passionate advocate devoted to helping you feel your best and be free at last with clear, healthy skin. She was once in your shoes. Desperately trying everything under the sun to make her acne go away. Feeling dejected and anxious. She hated going out with her face a mess and missed out on a lot of fun and life.
Fortunately, she poured her heart and soul into the Natural Acne Clinic and has since helped thousands of women, teens, and men around the world shed the chains of their acne and emerge with fresh, glowing energy as uplifting as their clear and happy faces.
Her approach is unlike anything I've ever seen and I love it because it gets to the ROOT CAUSE so that you can be clear forever. So if you're wondering about foods (yes, even paleo approved foods), nutrient deficiencies, natural skin care, supplements, and personal care products that are likely triggering your acne AND how to stay clear forever, watch this podcast today right away!
I hope this information is as helpful for you as it was for me.
<3
Show Notes:
Find Jessica here, and take a short quiz to get a 1 hour consultation for only $40: www.naturalacneclinic.com
Thanks for listening!
Thanks so much for joining us this week. Have some feedback you'd like to share or a question you'd like to ask? Leave a note in the comment section below!
If you enjoyed this episode, please share it using the social media buttons you see in this post.
Also, we'd love it if you would leave an honest review for The Optimize Paleo Podcast on iTunes! Ratings and reviews are super helpful and greatly appreciated as it helps us expose this show to a wider audience and spread this information to more people who need to hear it. We read every review so we look forward to hearing from you!
And finally, don't forget to subscribe to the show on iTunes to get automatic updates…see you next time!
Click the button below to subscribe on iTunes: