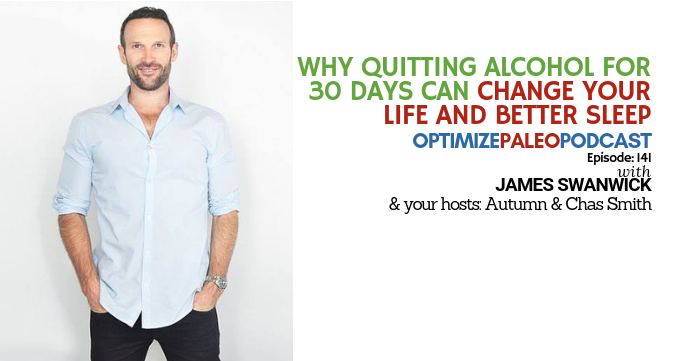 EP141: Why Quitting Alcohol for 30 Days Can Change Your Life and Better Sleep with James Swanwick
IN THIS EPISODE:
Have you ever wondered what your life would be like if you didn't drink alcohol?
Would you:
Sleep better?
Be more productive?
Look younger?
Lose a few pounds?
Feel less irritable?
Chances are, if you're like many Americans (my former self included) a glass of wine or beer each night, is a regular thing. There's even research to suggest that one or two glasses each night CAN be beneficial. But what I've also seen, is that alcohol (even in small amounts can hold people back).
In fact, if you have alcohol in your system, fat burning comes to a screeching halt, because your body will prioritize its removal.
Now I will NEVER suggest you never drink again! I love my organic wine. And a good time.
But what I do suggest is that you listen to today's podcast with former ESPN SportsCenter anchor, speaker, and health enthusiast, James Swanwick, to hear all about the profound changes that can occur when you ditch alcohol for 30 days. We also talk about his awesome Swannies Blue Light Blocking Glasses and how they can improve your sleep.
Did I mention that Forbes listed James as one of 25 Professional Networking Experts to Watch?
Well they did and our discussion is too good to miss! ! So tune in and share this podcast with anyone you think it might help! Oh and don't forget to use this link to get 10% off of his Swannies Blue Light Blocking Glasses here: https://www.swanwicksleep.com?rfsn=1844740.1eb38a
Have a beautiful day!
<3
Links / Offer
Swannies Blue Blocking Glasses at 10% off: https://www.swanwicksleep.com?rfsn=1844740.1eb38a
Bio
James Swanwick is an Australian-American investor, entrepreneur, speaker, former SportsCenter anchor on ESPN, host of The James Swanwick Show podcast and the author of The 30 Day No Alcohol Challenge. Forbes listed James as one of 25 Professional Networking Experts to Watch.
James will be talking about Swannies Blue Light Blocking Glasses. Swannies Blue Light Blocking Glasses block 99% of blue light rays, helping people to sleep better and improve their overall well being. He also has the 30-day No Alcohol Program and 47-day Habit Hacker Program.
Thanks for listening!
Thanks so much for joining us this week. Have some feedback you'd like to share or a question you'd like to ask? Leave a note in the comment section below!
If you enjoyed this episode, please share it using the social media buttons you see in this post.
Also, we'd love it if you would leave an honest review for The Optimize Paleo Podcast on iTunes! Ratings and reviews are super helpful and greatly appreciated as it helps us expose this show to a wider audience and spread this information to more people who need to hear it. We read every review so we look forward to hearing from you!
And finally, don't forget to subscribe to the show on iTunes to get automatic updates…see you next time!
Click the button below to subscribe on iTunes: