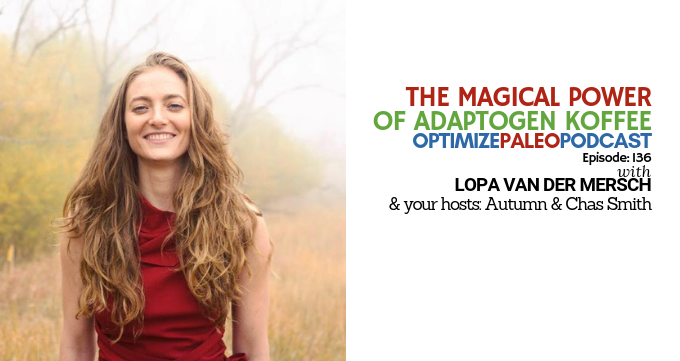 EP136: The Magical Power of Adaptogen Koffee With Lopa Van Der Mersch
Looking for a replacement for your cup of coffee?
IN THIS EPISODE:
As you might have guessed, Rasa Koffee is not actually coffee. It's an adaptogenic coffee replacement created by a new mom who needed a little boost without the caffeine crash. And if you haven't heard of adaptogens, they are basically magical substances that help your body find balance.
If you're fatigued, you'll feel energized.
If you need to relax, they'll help you unwind.
When you need to focus, they'll help you find clarity.
Adaptogens have been a lifesaver for me and I couldn't be more excited to share them with you all! So check out this awesome podcast with Lopa Van Der Mersch (creator of Rasa Koffee) to find out:
Why reassessing your relationship with caffeine may be a good idea
How adaptogens actually work
Which adaptogen has been know to turn grey hair black,
Which adaptogen is also an aphrodisiac
The adaptogen that has a long history of use as a beauty tonic
And which "adaptogens" (as found in common adaptogen products), aren't actually adaptogens at all.
I hope you love this chat (and Rasa Koffee) as much as I did!
Click this link to save 15% when you order! (Don't forget to use the code "Paleovalley"): https://rasakoffee.com/paleovalley
In health,
Autumn
BIO:
Lopa Van Der Mersch is the mother of a 3 year old, a 6 month old, and a startup, and, somewhat miraculously, is not completely insane. She credits a good portion of her sanity and stable energy to adaptogens, which is a big part of why she started Rasa Koffee—to help you sustain your superpowers with daily adaptogenic beverages.
What keeps her going on hard days are the reviews from our customers saying that Rasa has changed their lives. When she's not pedaling adaptogens, you can find her doing tea ceremony, cracking "that's what she said" jokes, and/or gushing over her insanely cute boys
SHOW NOTES:
Go here to get Rasa Koffee for 15% off! Be sure to use the code "Paleovalley": https://rasakoffee.com/paleovalley

Thanks for listening!
Thanks so much for joining us this week. Have some feedback you'd like to share or a question you'd like to ask? Leave a note in the comment section below!
If you enjoyed this episode, please share it using the social media buttons you see in this post.
Also, we'd love it if you would leave an honest review for The Optimize Paleo Podcast on iTunes! Ratings and reviews are super helpful and greatly appreciated as it helps us expose this show to a wider audience and spread this information to more people who need to hear it. We read every review so we look forward to hearing from you!
And finally, don't forget to subscribe to the show on iTunes to get automatic updates…see you next time!
Click the button below to subscribe on iTunes: