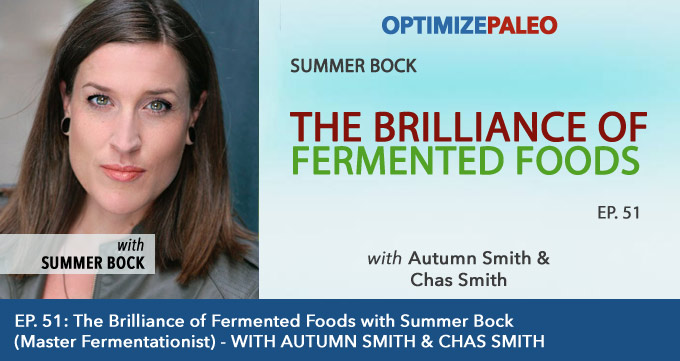 EP. 51: The Brilliance of Fermented Foods with Summer Bock (Master Fermentationist)
How Fermented Foods Can Heal Your Gut!
IN THIS EPISODE:
Summer Bock is a Fermentationist and founder of Guts & Glory, an online company dedicated to providing clients with the knowledge and actionable skills to heal their digestive issues naturally. Her practice is based on the premise that good health starts in the gut. She is a trained herbalist with a background in microbiology and is certified by Columbia University in Integrative Nutrition.
We met Summer at JJ Virgin's Mindshare event this summer and she was one of my favorites. She is not only incredibly knowledgable but also tons of FUN and I think you're going to love this interview!
Here are just a few of the gems you're in for:
Why fermented foods are the MOST important foods for gut healing

The many benefits of fermented foods

How to choose fermented foods at the store

How to make perfect ferments at home

Summer's favorite probiotics for optimal gut health

The population that should avoid fermented foods

What a "golden doodle" is and why you want one

A simple at-home trick for gauging your digestion

And much more!
Have a listen, add fermented foods to your diet and float through this holiday season with vibrant health!
SHOW NOTES:
Check out Summer's website here:
http://fermentationist.com/
GET FREE STUFF from Summer here:
summerbock.com/paleovalley
Thanks for listening!
Thanks so much for joining us this week. Have some feedback you'd like to share or a question you'd like to ask? Leave a note in the comment section below!
If you enjoyed this episode, please share it using the social media buttons you see in this post.
Also, we'd love it if you would leave an honest review for The Optimize Paleo Podcast on iTunes! Ratings and reviews are super helpful and greatly appreciated as it helps us expose this show to a wider audience and spread this information to more people who need to hear it. We read every review so we look forward to hearing from you!
And finally, don't forget to subscribe to the show on iTunes to get automatic updates…see you next time!
Click the button below to subscribe on iTunes: